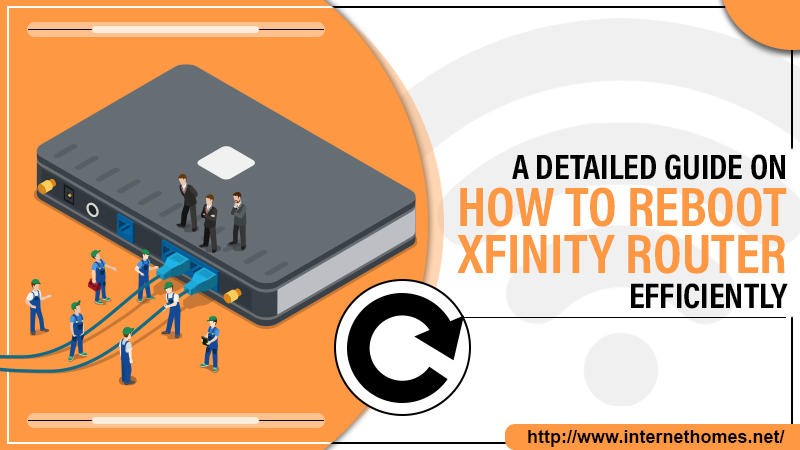 Knowing the way to reset the Xfinity modem or router is of much importance today. It's because a majority of people's activities happen online. So, a good internet connection is of utmost importance. But the connectivity issues can sometimes be quite challenging to fix. To resolve this problem, people try to find out how to reboot Xfinity router. Troubleshooting the router is a simple way to refresh your wireless network connection. Comcast is quite prevalent in the United States. Xfinity is a service provided by them for connectivity. This guide will tell you how to reboot the router to get great internet connectivity in your home.
What is Xfinity?
Xfinity is a high-speed internet that is a product of Comcast. Comcast is an American cable systems company. Xfinity has different versions for a particular need. It's not only restricted to internet services but can also be utilized for entertainment purposes. They deliver a good service and provide round-the-clock assistance to their customers.
Why Should You Reboot the Xfinity Router?
Before you learn Xfinity how to reboot router, it's important to know the reasons behind it. When you know the issues, then you'll know the right method for resolving the problem. The different reasons are given below.
Router not working– If your router isn't working, your internet connectivity will be impacted. Thus, it's important for you to reboot the router in such a situation.
Installation of a new device– If you are planning to install another device, there's a need to know how to reboot Xfinity router.
Modification of settings– It's not very essential to reboot when you are modifying settings. However, a reboot will make sure that all the changes you have done work properly.
How to Reboot Xfinity Router?
When you reset the router, it will go back to its default settings. It means that you will have to configure it one more time. If you desire to reboot the router, it's essential to backup your existing device configuration. Otherwise, you will have to learn the steps of reconfiguring it later on. There are various ways for rebooting. They vary according to their model.
Read Also–  Easy Guide To Fix Xfinity WiFi Not Working
Methods For How To Reboot Xfinity Router
The first method for rebooting is by using Xfinity's website. Here are the steps for how to reboot Xfinity wireless router online.
On your browser, open a new tab.
On the address bar, search type 10.0.0.1.
You will find yourself arriving at the Xfinity site.
For rebooting your modem or router, log in by inputting 'admin.' This should be your username. For your password, type' password.'
On the left-hand side, tap 'Troubleshooting.' You will find a drop-down menu appearing on the screen.
Select 'Reset/Restore Gateway.'
After you select this option, locate the button of 'Restore Factory Settings.'
When you click this, you will find that all your prior settings are lost. Your device will come back to its default setup.
After successfully following the steps described above, you can conduct an Xfinity modem reset. It, in turn, will enhance your internet connectivity.
Use the pinhole method to reboot
If the method mentioned above didn't work out for you as you desired, you could use the pinhole method. You require a paperclip or a similar object for this method. Follow the steps given below for it.
Find the reset pinhole at your router's back. This button is small, but it has a different color that's in contrast to other ones. So you can identify it easily.
Use the pin for pressing and holding the button for a period of 30 seconds. You should keep holding it until you find the lights that are in front of your modem switched off.
After you press it for 30 seconds, you'll notice the lights switching off. At this time, you can release the button. Your router will start conducting a reboot.
Wait for the modem to switch on. After a few minutes, you'll see the lights appearing again. But you will have to once again configure the settings.
The router will return to its default settings. You can modify the password to make it more secure.
Use Xfinity Assistant
Now you know how to set the Xfinity router reboot time. But if you still are not sure that you can carry out the steps independently, take the help of Xfinity Assistant. It is a chat box where you can tell your concerns about the router and other things regarding Xfinity. The Assistant operates throughout the day, and people can reach out to it for assistance at any time during the day. Use the Assistant to get in touch with those who possess more knowledge regarding the technical aspect.
The Xfinity Assistant is helpful for seeking assistance for a wide variety of things. You can get help regarding the following:
Billing
TV troubleshooting
Xfinity Voice
Internet troubleshooting
Xfinity Home Security
Xfinity ID or Password
Xfinity Apps
Xfinity Mobile
TV remote pairing
Final Words
By now, you should have found an answer to your question, how to reboot Xfinity router. Keep in mind that the words' modem', 'router', and 'gateway' are used interchangeably in all troubleshooting guides. They all mean one and the same thing. Remember that before rebooting the router, you need to back up your current device configuration. You can reboot the router through the Xfinity website. On the other hand, you can also use the pinhole method to reboot. However, if you feel that you are not able to perform the rebooting independently, get help from Xfinity Assistant. You can also connect with an expert Xfinity customer care team to resolve all your issues. If you want to learn how to reset passwords in Xfinity, Read from our guide.