The Linksys Smart Wi-Fi is a service that comes with the Linksys smart Wi-Fi routers. The service is free of cost. After a user sets up their Linksys Smart Wi-Fi router, they can access it seamlessly in all places where there is internet connectivity via a Linksys cloud account and associate their router to it. Thus, users should know about Linksys router smart Wi-Fi login access.
It's also essential to always keep the firmware of your router updated. It will help you prevent any problems with router access when using the Linksys cloud account.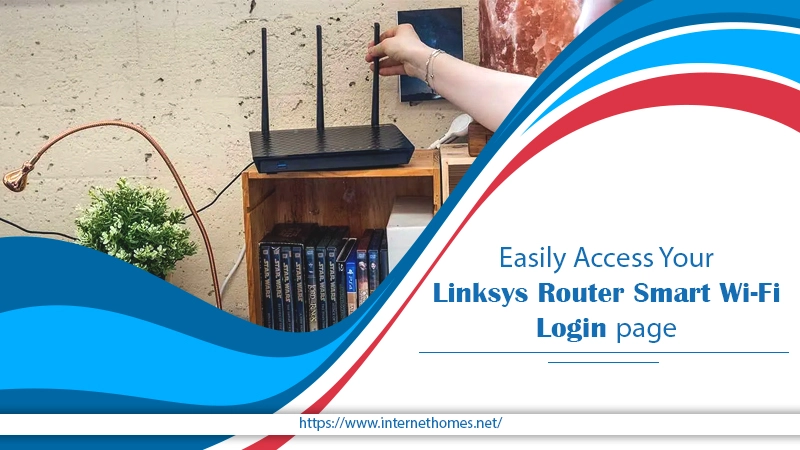 Linksys Smart Wi-Fi Router – What Is It?
The Linksys Smart Wi-Fi routers provide the users with safe access to their home network from a mobile phone or a web browser. You can quickly access the home network to check the connection status of various devices. You can also provide guest access to the internet or block the device of your children from gaining access to unsafe websites. 
Moreover, you also have the ability to prioritize the devices on your network which should receive the maximum bandwidth to minimize buffering and loading times. When you have a Linksys setup, you can use linksyssmartwifi.com for signing in with the router's GUI upon making a Linksys smart Wi-Fi login account. Account creation is entirely free, and it only requires half a minute to make this account.
Points to Remember Before You Log into Linksys
If you want to access the setup page of Linksys router, you should utilize your system's hardwired connection to this router.
It facilitates a safe internet connection and minimizes the likelihood of extending to other areas of Linksys router. Your router possesses auto-sensing capacities. So, you don't need straight-through or cross-over cables. 
Check that a wireless computer connected to the Linksys router is fully linked to the Wi-Fi router. There should be power before you set up the Linksys router. On accessing the default Linksys Smart login page, you will be asked for a router password. Admin is the default password of your router.
Access
Linksys Router Smart Wi-Fi Login
Page
You can access the Smart Wi-Fi login page through local access and remote access. Find the steps for doing so in both the ways below.
Local access
To access your Linksys router locally, start a web browser. Now follow the points mentioned below.
Fill in the default IP address of your Linksys router. It is 192.168.1.1. You can also input "myrouter.local" in the address bar and hit Enter.

Now fill in your router password. After that, tap '

Login

.' As mentioned before, the default password is always admin. If you have modified it, enter the new one.

You can also sign in through the Linksys cloud account. 

When you notice the page of

Linksys smart Wi-Fi sign-in

, fill in your password and email address. Hit '

Login

.'

You will now see the Linksys Smart Wi-Fi home page on your screen. You can easily access and set all the things under the section of '

Smart Wi-Fi Tools

' and '

Router Settings

.'
Remote access
Gaining access to Linksys router login smart Wi-Fi remotely facilitates the user to manage the wireless network. They can change or specify the router settings safely at any time and from anywhere. If you desire to know how to remotely access the Linksys smart Wi-Fi go through the steps mentioned below. 
Open your web browser, and in the address bar, input linksysmartwifi.com. Now press Enter. Ensure that you are firmly linked to the Wi-Fi. 

Correctly enter your credentials in the fields of '

Email Address

' and '

Password

.'

if you experience numerous failed logins, it may cause your account to become temporarily suspended. If you aren't sure of the password, then choose to conduct a password reset.

You'll find the home page of the Linksys Smart Wi-Fi on the screen. You can then easily access and change the router settings. 
How to Reset Linksys Smart Wi-Fi Cloud Account Password
It's easy to change the Linksys Smart Wi-Fi cloud account password. You can change it on the web-based setup page by following these instructions.
Open the browser and on the address bar input

https://linksyssmartwifi.com

. Then hit Enter.

Click the link of '

Forgot your password?

' Input your email address of the Linksys Smart Cloud account.

Tap '

Send instructions

.'

You will find a confirmation message asking you to see your email. Go to your email and view the message from

noreply@linksyssmartwifi.com

. If you don't see the mail in your email account, look at your junk or spam emails.

Tap the link for the password reset given to you.

On the page '

Password Reset'

, input the new password and then confirm it. Tap '

OK

.'
What is the Process to Manually Reset Linksys Smart Wi-Fi Router?
You can also reset the router password manually. Follow these steps for it.
Keep pressing the button of physical reset that's present on the Linksys smart Wi-Fi router for a period of 10 seconds. 

While you do this, ensure that your system switches on. Keep in mind that all earlier settings you configured will be deleted when you reset manually. 

Now launch a web browser, and in the browser address bar, input the default IP address of Linksys login.

You can also utilize my router local in place of an IP address as a web address.

Navigate to the '

Navigation

' tab and check the router settings.

Tap'

Troubleshoot

.'
Final Words 
Now you know all about accessing Linksys router smart Wi-Fi login page. You can access your router locally and remotely. If you encounter any trouble in this entire process, connect with Internet Homes' Linksys Technical Experts. The experts will effectively troubleshoot all major and minor problems that might hinder you from accessing your router settings.