Linksys is a renowned router service provider. It offers a great facility to users that internet suppliers like Time Warner and Comcast prefer. Setting up the Linksys router is not difficult. You can even perform Linksys router setup without cd. 
How do I set up my Linksys router without the disk? Here in this guide, we have explained each step most thoroughly that anyone can apply. 
Let's get started!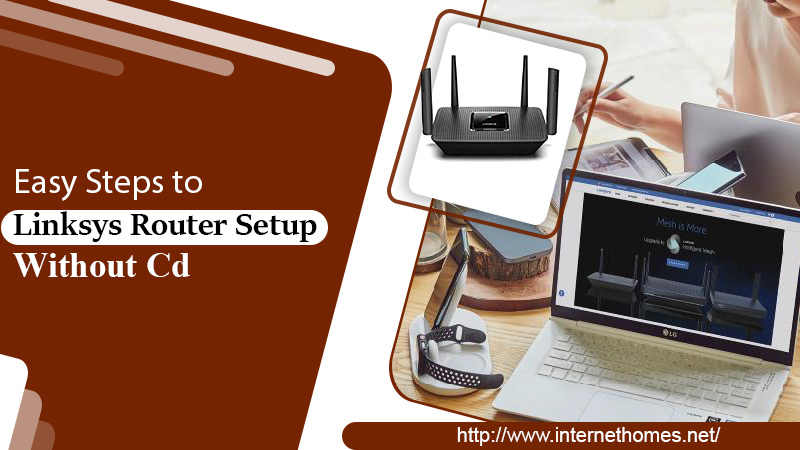 How To Setup A Linksys Router Without A CD
The Linksys router setup without cd is very easy and simple. You don't need to be a technical expert for this.
Here, we have explained each step in detail. But, before you begin how to set up a Linksys router without a cd, do not forget to read and check the conditions mentioned below.
Check that your internet is working properly.

Your system and the modem are connected to the power supply.

Make sure there is no solid/metal obstacle placed between the router and the computer.
After going through the basic rituals, let's start with the main procedure. 
Step 1: Set Up Proper Internet Connection  
 Since you are setting up Linksys router without cd, you need to have working internet. Therefore: 
Make sure that your computer is directly connected to the broadband. 

If you are using a modem/router, make sure your computer can directly access the internet through it.
But, in any case, if your internet is not working or has an issue, then contact your internet services provider. 
Using DSL connection:
If you are using a DSL connection, you must have a PPPoE Username and password from the DSL company.  
Step 2: Create Connections Between Modem-Computer-Router
You need to connect the computer and your modem with your router via the Ethernet cables. There are four Lan ports, of which, one port is for the modem and the rest are for the computer.
Make sure you do not create a wrong connection. If you do so, you will not be able to access the Linksys router setup page. 
Step 3: Linksys Router Setup
Once you make the right connection, you will get access to the Linksys router setup page. Usually, the default IP address is 192.168.1.1 but in some cases, it may vary. Hence to proceed with how to setup Linksys router without cd, follow these steps: 
Check the DHCP (dynamic host configuration protocol) IP Address.

Now launch the

cmd prompt

on your computer.

Now, type

ipconfig

and hit the enter button.

A list of IP addresses will appear. From this list, select

Local Area connection

. Use this number to open the router web interface. 
Step 4: Tweak Setting On Linksys Router
The next step on how to set up a Linksys router without a cd is to alter the Linksys router settings.  
You will be prompted to enter the Linksys username and password.

The default password of Linksys router is admin.

In case the default password does not work, reset the device to the factory default. 

Press the reset button for 30 seconds.

After releasing the button, wait 30 more seconds. 

Power cycle the router.

A setup page on your screen will appear. It is the web interface of the router. Change the settings from here. 
Step 5: Tweak Internet Connection Settings
For cable internet service providers: 
Copy the MAC address of your computer and also ensure that the DHCP server is enabled. 
For DSL internet service providers:
In the case of DSL, enter the PPPoE credentials as provided by your ISP. For that, change the internet connection settings to the PPPoE and enter the username and password >> Save the settings. 
Step 6: Test The Connection
Now, it's time to test the result of setting up Linksys router without cd. For this purpose, go online on your computer.
If you can access the internet on your computer, congratulations! You have successfully set up the Linksys router. But, if there is a reverse scenario (the internet is not working) then go back and identify which step you missed. 
Step 7: Change The Wireless Network Settings
Once you are connected to the Linksys router setup without cd, you can change the wireless network settings. 
To change the settings: 
Head to the

Wireless tab

on the setup page.

Now, change the wireless network name.

Then, enter a security password only you know. Note down it somewhere so you don't miss it. 
If you are worried about what WEP/WPA is, know that it is just the password for your wireless network or passphrase. This is to protect your internet connection from being used by others without using a password. Hence, make sure you enable the security on your network. 
Note: often routers come without security settings so make sure you enable it. Use WPA2 with AES encryption for better performance. WPA2 is a string-based wireless security mode and is better than outdated WEP. 
Step 8: Connect To The Wi-Fi Network
 Here is the last step. Test wi-fi connection by connecting your computer /devices wirelessly to the new wireless network. To connect with the wireless network:
First, search for the SSID on your wireless computer.

Find the SSID (the name of your network) and enter the correct password. 

When connected to the access point, try to access the internet on a wireless device.
Read Also-  How To Change Router Setting To Log into Linksys Router?
Wrapping Up: 
We hope that the guide has helped you understand how to set up a Linksys router without cd. You can apply these steps even with a cd and set up your router manually. But, keep a sharp eye while applying these steps. Because if you miss any of these, you will have to go back and start the procedure again. 
Further, if you still face an issue or need help you can contact us. Our Linksys technical experts will assist you to set up the Linksys router setup without cd 24×7.