A router is a device that transmits a Wi-Fi signal as radio waves. These waves can get blocked by a barrier like a wall. As a result, they lose their strength. Linksys routers come with some impressive functionalities, like quick connection speed and seamless video streaming. They are very easy to use. However, sometimes users report that their Linksys router keeps disconnecting. If your router loses its connection, then your download may abort. But there are some solutions you can start implementing to solve this problem. Keep reading to know all about the reasons and different ways to resolve this problem with your router.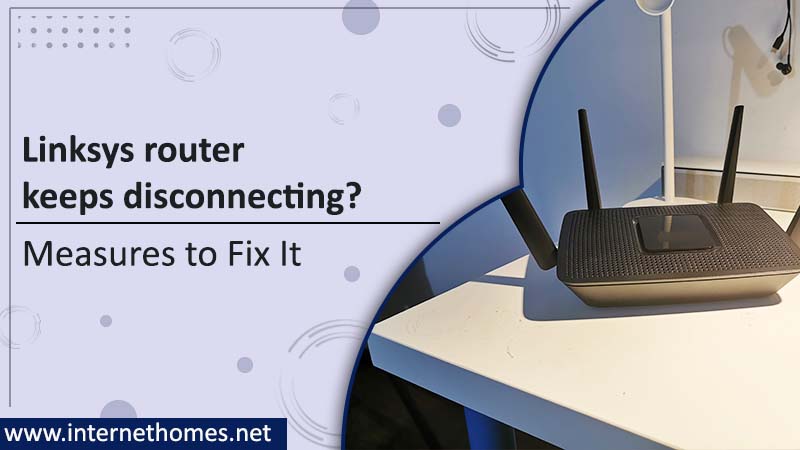 Why Your
Linksys Router Keeps Disconnecting
?
There're a couple of reasons for encountering this issue. Some highly probable ones are mentioned below.
Interruption of the network frequency with other devices. 

Low network signals from the router.

Your router firmware is outdated.

Overheating of the Linksys router.

Driver or network card issue.
Now that you know all the causes, you won't find yourself questioning why does my Linksys router keep disconnecting. The next step is to understand the different troubleshooting techniques that you can follow to fix this problem.
Read Also- How To Fix Linksys Router Won't Connect To Internet?
What Can You Do When Your
Linksys Router Keeps Disconnecting
?
There are multiple ways to tackle this problem. Follow the instructions as mentioned below for each technique. 
Adjust the maximum transmission unit (MTU) size
MTU is a measurement that represents the largest data packet that a device connected to a network accepts. You can equate it to a height limit for tunnels or freeway underpasses. Vehicles that go beyond the height limit cannot fit. Likewise, packets that go over the MTU of a network can never pass via that network. First, find the correct MTU size so that you can get a good output for your Wi-Fi network.
Alter the frequency of Linksys channel
Linksys router utilizes 2.4 to 5 GHz in Wi-Fi signal. If you find that your Linksys router keeps dropping internet connection, the Wi-Fi signal might be conflicting with routers that are on an identical frequency. To resolve this situation, restart your router. If the issue persists, follow these instructions.
Connect your system with Linksys.

Launch a browser and input'

192.168.2.2

.' Press Enter.

After inputting username and password as admin, click '

Login

.'

Tap '

Wireless

.' Then tap '

Basic Wireless Settings

.'

Tick on '

Manual

' then choose '

Channel Width Auto 20 MHz or 40 MHz

.'

Navigate to channel and modify it on the '

Auto

' mode.

Tap '

Save Settings

.'
Remove barriers between the Linksys router and the accessing device.
Obstacles like a wall may be causing your Linksys router to disconnect. Implement the following measures.
Replace the router or other devices like your laptop or personal computer. 

Minimize the distance between your router and other devices.

Place the Linksys router and other network accessing devices in the single same place for getting good network signals. 

It highly suggested that you place the wireless router at your home's center for getting a good signal quality. You can also set the router at a greater height.

If you put Linksys router at a height, leave a two-meter distance between your router antennae and the roof of your house for enhanced transmission.

If the signal passes through various floors, you should keep the router's uppermost layer for good transmission of the signal. 

Those complaining that their

Linksys router keeps dropping internet

should see if they have mistakenly kept the router near metal objects. Take away the router from this place. Also, check whether the router is kept near big concentrations of water like a water tank. If it is, then remove it from there. 
Customize the wireless settings for your router
When the router comes into conflict with another Linksys router, then also you will face this problem. It happens if you use the default Wi-Fi setting. In this case, change the network SSID. It's highly recommended that you begin using WPA and WPA2 personal as the security keys.
Update the router firmware
Faulty firmware update is another reason why Linksys router keeps dropping internet connection. You will see it flashing orange light. There will also be no internet. To update your Linksys firmware, follow these points:
Sign in to the admin page of Linksys.

Go over to '

Administration

.' Then go to '

Firmware Upgrade

.'

Tap '

Choose File

.' After that, choose the downloaded Linksys firmware.

Next, hit '

Start Upgrade'

and allow it to finish.

Lastly, reboot the Linksys router and see if you find the issue resolved.
Replace your power adapter 
A faulty power adapter can also lose the Wi-Fi connection. It puts a halt to the power supply, leading the Linksys router to restart. When it restarts, every device will disconnect. So, replace your faulty power adapter with one that works optimally.
Inspect the net connection on the modem
Linksys router can also disconnect because of the modem. So, ensure that you don't have any disconnection issues with your ISP. To check the internet on the modem, link your computer directly to the modem. You should bypass the Linksys router. Now, access the internet. If you still face problems, it means that the issue is from the side of your internet service provider. 
Install a Wi-Fi range extender 
A Wi-Fi router has a limited coverage area. If your Linksys router keeps dropping internet, a good way to fix it is by installing a Wi-Fi range extender in the network. It catches the poor signal and then enhances and expands it at a longer distance.\
Read Also- How To Fix Linksys Router Not Getting Full Speed
Final Words
Now, whenever your Linksys router keeps disconnecting, you can implement the various fixes you've just read. From adjusting the MTU size to altering the frequency of the channel and installing a Wi-Fi range extender, there's a lot you can do. However, if the fixes do not work, there's no need to panic. You can seek expert Linksys customer support for it. The technical support professionals will easily troubleshoot any kind of issue and allow you to enjoy high-speed internet.