There are several reasons why Linksys Parental Controls not working. One reason may be that the filters have been blocked by your internet service provider.
Another reason could be that your computer's date and time are incorrect. We shall get into each aspect individually and explain the fix for them.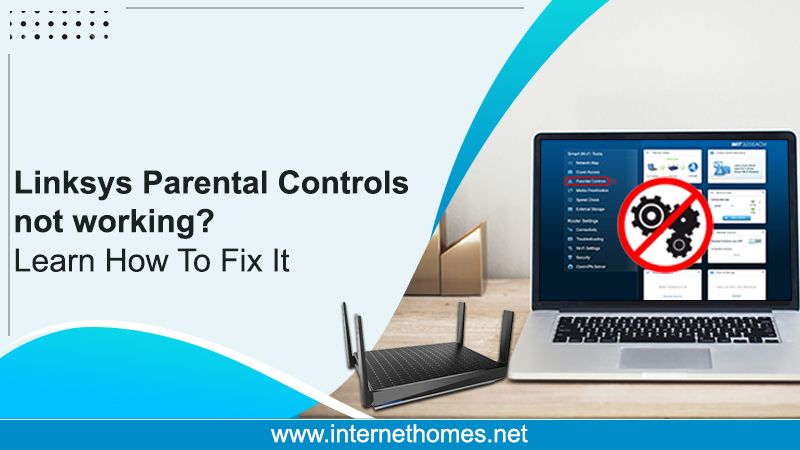 Causes of 'Linksys parental controls not working'
There could be several reasons as to why 'Linksys parental controls not working.' 
Router issue:
Most of the Linksys smart wifi parental control problems are caused by the router not being configured properly. This situation leads to 'Linksys router parental controls not working.'
Setup problem:
One reason may be that the setup is incorrect. Make sure you input the correct website addresses when you're trying to restrict access. 
Incorrect WiFi network connection:
Another reason may be that your device is not connected to the same WiFi network where parental controls are enabled. Make sure the connection between both devices before attempting to use parental controls. 
Latest firmware update:
Make sure you have the latest firmware update for your Linksys product. Firmware updates can oftentimes resolve common issues and improve performance. 
Time zone not matching:
See to it that timezone match. If you notice that they don't work on time or if you can see them but can't access any websites it is because of the date and/or time zone settings.
Bridge mode:
Turn off bridge mode on your router as these features cannot be used together with enabled 'Linksys router parental controls.'
Parental control:
Check whether some devices were connected to WiFi networks without enabled parental control. Else if someone has disabled them manually from the device itself, you may notice the issue of Linksys router parental controls not working.
How to repair or fix the issue of 'Linksys parental controls not working?
If you are having trouble with your Linksys parental controls, follow the steps below:
Solution 1:

Fixing the issue with router and modem setting
:
You will have to do power cycling of your router. This means unplugging both the router and modem, waiting a few minutes for them to discharge, then plugging in the modem and then the router. Often times this will fix any issues that you are experiencing. 
Solution 2 – Factory Reset Your Router:
This solution will erase all of your settings and return your router to its default state. It is a good idea to do a factory reset if you have recently changed your password or made other changes that may be causing the parental control feature to not work correctly. 
How to reset your Linksys router to factory settings?
Switch on your Linksys router.

Locate and push the factory reset button on the back of your router.

Hold it down for a few seconds or until all of your router's LEDs begin to flicker quickly.

Wait after you've released the button.

Your router will power up within a few minutes, and you will be able to configure anything using the app.

A different way of establishing your WiFi and Parental Controls is to go to the router's control panel and try resetting by right-clicking and resetting the router.
Solution 3 – Changing the time zone to fit into the actual time: 
It's likely that the time zone has been altered if the parental controls option is inactive while enabled.
How to adjust and change your time zones?
To begin, log in to your router and determine what time zone it is in.
After that, go to the settings on each of your devices linked to the WiFi network.
Go to the Date and Time tab and double-check that the time zone matches that of the routers.
Reboot your router and attempt the parental controls again when you've finished. If it doesn't work, it's possible that you're dealing with a general OS problem, which we'll cover in our next solution.
Solution 4 –

Update the firmware for the error: 
After logging in, click on the 'Firmware Upgrade' tab. The firmware page will open with a warning message about the dangers of upgrading firmware. Click on the 'Yes, I understand' button to continue and then select the file you downloaded in step one. After selecting the file, click on the upgrade button and wait for the process to complete. Once you have entered the login details, a web page will appear that looks like this:
The first step is to check if your firmware is up-to-date. To do this, click on the 'Firmware' tab in the top menu bar, and then select 'Check for Updates'. You will see the latest update available in the window. Click on the 'Update Now' button to download and install the new firmware.
If there are no updates available, you can proceed with updating the parental controls settings. Scroll down to the section labeled 'Parental Controls', and then click on the 'Enable Parental Controls' button. You would see a pop-up window and you will have to press the enter key.
Solution 5 –

Make changes to wifi
Here's how to reconnect to WiFi after it's been disconnected: Turn off the WiFi. Go to the quick menu and turn it off. Set up your device for WiFi by going to the options and turning on the WiFi. Forget about any existing networks. Connect with a network that has parental controls enabled.

Read Also- How To Fix Linksys router keeps disconnecting?

Conclusion
: 
To solve this problem, try to reboot your router. You can update the firmware. Else, align all time zones on all WiFi devices.
Now that you know why Linksys parental controls don't function, we hope you can resolve the problem on your own. If you run into issues, don't hesitate to contact our Linksys Technical Experts to resolve 'Linksys parental controls not working.'