No one loves an internet service that offers a slow internet speed. AT&T fiber internet provides high-speed internet at affordable price points. It makes sure that every one of your home devices has consistent and stable connectivity. In your plan of AT&T fiber internet, you receive a modem, Wi-Fi gateway, and a Wi-Fi router. All this is promptly delivered to your address through a technician who installs the fiber internet set up at your place. However, you also have the option of using your own router. So, you should know how to use your own router with AT&T fiber. It's exactly what you will find in this article.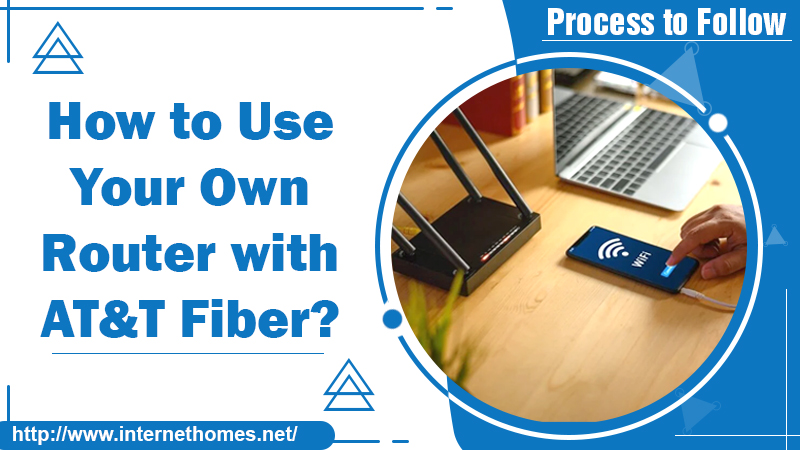 How to Use Your Own Router with AT&T Fiber
The thought of using your own AT&T fiber router may occur due to many reasons in your mind. The foremost reason for it includes more significant Wi-Fi coverage at your home. When your own router can deliver an incredible speed of internet without any lag, then it's natural for you to use it.
At present, AT&T does not allow its fiber subscribers to rely only on a third-party router. However, you can make use of your AT&T fiber router replacement. For it, you should be aware of the process of configuring the AT&T fiber router to a third-party router.
What is the Process of Configuring AT&T Fiber Router to Another Router?
AT&T wishes you to employ the router it has provided with your own. It thus needs some configuration settings. Two routers can disturb the network, as each has its own private network. 
You can start configuring the AT&T router through Bridge Mode configuration. Through this mode, the user can link two routers on a single network. This configuration disables the NAT or the Network Address Translation functionality on the modem. It also prevents the likelihood of any conflict of IP address by enabling the router to function as a DHCP server. 
As for the AT&T modems, you are required to keep the gateways provided by the company. But you can certainly configure your own router in the AT&T Gateway and disable the Wi-Fi network on the AT&T Gateway. 
But there can be some restrictions to the setup of a bridge mode. It's not possible to achieve a true bridge mode using an AT&T Gateway. 
There are numerous methods to configure the setup according to the AT&T modem model you possess. To find the device you have, link your AT&T fiber optic router to your computer with an Ethernet cable and adhere to the instructions applicable.
How to configure Motorola NVG 510 and 589
The AT&T Gateway server allocates to the first device, the WAN IP address that needs its DHCP address on the local area network. Follow these steps to configure this AT&T fiber router model.
On the browser of your system linked to the AT&T fiber Gateway, input

http://192.168.1.254

. 

Navigate to the Firewall tab on the GUI page. Choose '

IP Passthrough

.' Input the device access code if you are prompted.

In the drop-down of '

Allocation Mode

' select the '

Passthrough

' option. Then choose '

DHCPS-dynamic

.'

Tap'

Save

.'

Choose '

Restart Now

' when you find the reminder of restart Gateway.

Now reconfigure your third-party router for refreshing the network connection.
DHCPS-fixed
This configuration is perfect if you desire to link more than a single device to the AT&T Gateway. Follow these steps.
Open the browser of your system that is connected to the AT&T modem.

Log into the

AT&T fiber router

using 192.168.1.254. 

Navigate to the '

Firewall

' on the GUI page and select '

IP Passthrough

.'

Fill in the '

Device Access Code

.'

Select the '

Passthrough

' mode on the menu of 'Allocation.'

In the drop-down of '

Passthrough Mode'

select the 'DHCPS-dynamic' option. Then tap '

Save

.'

Choose '

Restart Now

' when you find the reminder of restart Gateway.

Now configure this newly configured device.
What are the Best Routers for AT&T Fiber?
Many routers are perfect for AT&T fiber. Some of the best ones are given below.
Netgear Nighthawk AX6000 
It is hands down one of the best routers for AT&T fiber. You can enjoy a great speed of up to 6000 Mbps with it. It has a stunning design, with wings like antennae that make sure that you receive good coverage and connection. You can also enjoy great lighting speeds with the advanced Wi-Fi 6 technology. With this router, you can enjoy undisturbed gaming and streaming simultaneously. This model is compatible with all ISPs.
Linksys Max-Stream EA9300 Router
This model comes with a beautiful design characterized by extendable antennas. It has a triband that helps it to connect with numerous devices with a good connection, and also offers high-performance. It has a 1.8GHz quad-core processor. It's mainly responsible for its high performance. The dual-bands enable 4Gbps speeds. Another great thing about it is it's 512 MB of RAM and a flash memory of 256 MB.
TP-Link AC5400 Router
This model is perfect if you want a gaming router for consoles like XBOX and PS4. It has an elegant design, and the router has a 64-bit 1.8 quad-core processor that results in its great performance. It ensures that you enjoy a reliable connection for every device. There are also WAN and LAN ports of 8 GB and 1 Gigabit, respectively. The router has a combined speed of 2167+2167+1000 Mbps. It also has a range boost that functions with beamforming technology. It allows a reliable connection over a broader range.
Read Also- ATT Router Login Process
Final Words
For most people, AT&T provided Gateway functions fine. But for others who want wide signal coverage in their home, it might not be what they want. It's why you should know how to use your own router with AT&T fiber. Follow the stepwise instructions for configuring the fiber router to another one. You also know about some great routers for AT&T fiber that will give you a very high internet speed and reliable network coverage. Seek AT&T support if you have trouble configuring the router settings.