TP-Link is a prominent manufacturer of networks and products for personal or professional requirements. All over the world people are using their products. However, even though they are of great quality, technical glitches can occur, which requires the user to find the issue and fix it. Users often report their TP-Link router not working. It can seem very frustrating when you find yourself not being able to gain internet access even when you have installed the router. In this post, you will get to know various resolutions that will help you fix this problem with your TP-Link router.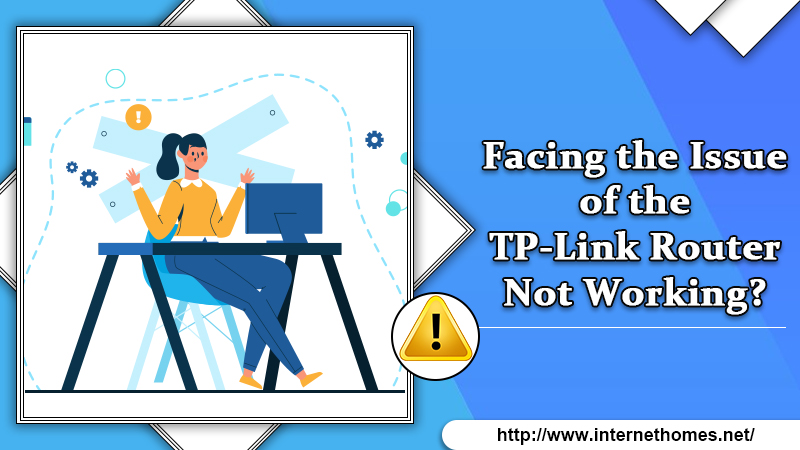 What To Do When You Find the
TP-Link Router Not Working
?
Are you tired of complaining, my TP-Link router is not working? Well, there are varied ways to fix this problem by yourself. Keep reading to know about the different troubleshooting methods you can implement. 
1. Make sure that a good physical connection is there between your router and modem.
The very first thing you can do to fix this problem is to see whether your router and modem are connected properly to each other. If you find a red message on the screen that displays 'WAN port is unplugged' on the status page of your router, it indicates that the modem is not linked to the router's WAN port.
Put the modem wire in the WAN port and check whether the error message is still showing on the screen. If there is no message, then the problem is resolved. But if the message is still showing, it means that the issue lies somewhere else. 
2. Clone the Mac address of your system
Some internet service providers register the Mac address of your system when you try to establish the connection of your network. If you have added the router for the internet connectivity sharing, then your providers will not accept the router due to the change in the Mac address. You will find the TP-Link router Wi-Fi not working because of this issue. So, to fix it, you must clone the Mac address of the system. Follow the steps given below to accomplish it.
First, check that your computer system is connected to the TP-Link router. The router must be earlier connected to the cable modem.

Next, navigate to '

Management

' then tap on '

Network

.' After that, navigate to '

Mac clone

.' It is present on the left side.
Following that, to resolve the issue of the

TP-Link router not working

, choose '

Clone Mac address

.' When you select this function, it will clone the ac address of your system. It will thus make it the WAN Mac address of your router.
3. Reset the IP address of your router
Usually, the TP-Link routers have a default IP address of 192.168.1.1 or 192.168.0.1. These IP addresses can come in conflict with your router device's current range. Due to this reason, your router will not be able to communicate with the modem. It will cause internet connectivity problems. 
To resolve this issue, you have to modify the router's Local Area Network (LAN) IP address from 192.168.1.1 to 192.168.2.1. To modify the router's IP address, tap on 'Network' and then navigate to 'LAN.' It is given on the menu's left side. Resetting the TP-Link router will definitely help you to resolve the connectivity problems that you are facing. 
4. Perform a power cycle of the modem and router
In most cases, this router problem is fixed by implementing the resolutions described till now. But if you still find that your TP-Link router not working after reset, then you may benefit by performing a power cycle. It will help in establishing an internet connection. Here are all the steps for it.
First of all, switch off the TP-Link router you have as well as the modem. Let both the devices stay turned off for a period of 60 seconds. 

After a minute has passed, switch the router back on. 

Now, wait for some moments after which power on the modem. Here again, wait for a few moments to see if the internet light is turning on. 

Now, wait for a period of two minutes. After that, see if your net connection gets established. 
This power cycle method is a great way to resolve the router not functioning issue. But if this also does not yield you the desired outcome, then the next method surely will.
5. Inspect the WAN connection type 
Have you tried all the methods described above but still find your TP-Link router lights not working? Don't worry. There is yet another troubleshooting method that you can try out. Go through the steps below to implement it properly.
The very step is to select the WAN connection type of the TP-Link router. If you are uncertain about the connection type, check-in with your internet service provider to get relevant suggestions.

Choose '

Network

' and then click on '

WAN

.' You can find it on the menu's left side. This step is for configuring the proper WAN connection type. After this, tap '

Save

.'

Reboot both the modem and router again. You will find that this method resolves the problem of the router not working.
6. Bridge configuration correctly
If you use a router for bridging or extending Wi-Fi, ensure that you use the same password and channel as your Access Point (modem). If you use a different password and channel, it will cause no or limited connectivity problems. So, inspect the WDS Bridge settings and see that both of them match with the modem's Wi-Fi settings.
Read Also- ATT Router Login Process Guide
Final Words
As you can see, there're many things you can do when you find your TP-Link router not working. Ensure that there's a good connection between your router and modem. You can also clone the Mac address of your system. Resetting the IP address of your router by modifying the LAN IP address can also help. Power cycling the router and modem devices is also an effective fix. If the problem doesn't go away, contact expert TP-Link customer support.