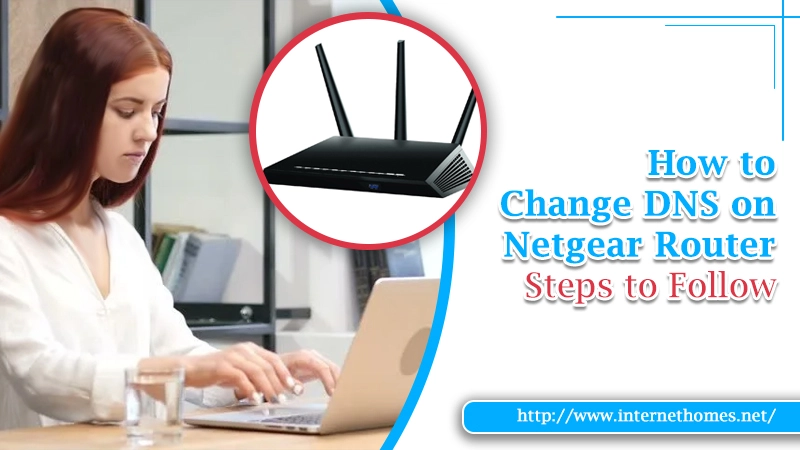 While browsing the internet, you may often find some web pages loading slower than usual. When you experience long loading times, your server likely has some technical glitch. If you use a Netgear router and come across this issue, it's totally possible to fix it. You must know how to change DNS on Netgear router to do so. DNS refers to Domain Name System. It's a place where all the URLs go for processing whenever you type them on your browser. In its absence, the URLs that you type will never get translated to a proper IP address. In this article, you'll find a detailed explanation of changing the DNS on your Netgear router and why it is crucial.
How to Change DNS on Netgear Router
?
Changing DNS for Netgear router is really simple. You can follow the steps below to have a safe network where all malicious content is blocked on several devices in your network.
Begin by signing into your Netgear router. Sign in by using the correct IP address. You can also navigate to routerlogin.com.

Once you reach there, use your username and password to login. If you did not change the default settings, type in 'Admin' as both the password and username of your router. 

After this step, select the option of '

Internet

.' It's present on the main menu.

Now, locate the section related to your domain name server or DNS address.

Next, enable the '

Use These DNS Servers'

option. Now, tap the button that displays '

Apply

.'

Wait for some time. It will take a few seconds for your router to make the relevant changes. You'll see a bar that fills up according to the completion stage of the process. 

When the bar fills up entirely, you will have successfully changed the

Netgear DNS server

settings. 
Read Also- Solve the Orange Light on Netgear Router Problem Quickly

How to Change DNS on Netgear Router
(Netgear Nighthawk R7000)?
To configure your Netgear Nighthawk R7000, you must log in to your router. So, you need to know the internal IP address of this router. It is 172.16.0.1. Input it into your address bar and hit 'Enter.'
You will find the Nighthawk R7000 router login screen.

Start on the '

Status

' page of this router. Now to modify the DNS settings of the router, tap the option of '

Internet

.' You can find this option as the second one on the left part of the page.

Now you will get redirected to another page. Scroll down this page till you locate the option of '

Domain Name Server (DNS) Address

.'

Check the radio button that says '

Use These DNS Servers

.' 

Below this, you'll find a box labeled '

Primary DNS

.' Here, input the main DNS server that you desire to use.

Next will be the '

Secondary DNS

.' In these boxes, input an alternate

Netgear DNS server address

. Note that you can use this address only if the first address cannot be found for a specific reason. 

That's it. The last step is to tap '

Apply

.' The process will complete.
Read Also- How To Fix The Netgear Factory Reset Not Working Problem?

What Should You Change Your Netgear DNS Too?
There are primarily two effective DNS servers you can find on the internet. You can choose between OpenDNS or Google Public DNS. However, if you are uncertain about the one you should pick, it's okay to go ahead with Google Public DNS. Upon modifying your router's DNS settings, you will input 'Primary' and 'Secondary' settings. Out of them, the secondary setting is employed only if it's impossible to locate the primary one.
If you wish to use the Google Public DNS, input the following primary and secondary settings.
Primary setting – 8.8.8.8

Secondary setting – 8.8.4.4
If you wish to use OpenDNS, then utilize the settings as follows.
208.67.222.222

208.67.220.220
Why Should You Think of Modifying the DNS Setting of Your Netgear Router?
It becomes essential to know how to change DNS on Netgear router in some instances. Some internet service providers abuse the DNS system. They also map unknown names to the servers that are under their control. More important is the fact that you will not know this is happening because your router is receiving its DNS settings from your internet service provider. For instance, if an internet service provider is hijacking your Netgear DNS and you are trying to search for some random site, and that site does not exist, you will get a page back from the ISP. This page will have local ads on it. 
So, by changing Netgear DNS servers, you can effectively modify the DNS setting for each computer present on your network. It happens because when a computer is linked to your network, your Netgear router automatically gives its DNS settings to that system. In this manner, you can safeguard your whole network from internet service provider hijacking by just changing the setting.
Problems You Can Come Across When Changing DNS Settings
Many devices on the network do not start using the new settings till they are rebooted. To resolve such Netgear router DNS problems, you should reboot the device and go to its network settings. Here, verify that it's using your specified DNS server. 
If you find that your DNS server isn't working, test your DNS connections first. Follow the steps below for it. 
Begin your system in safe mode.

If your system isn't working correctly, you'll encounter an error message stating '

DNS Server Not Responding

.'

Disable your Firewall and antivirus software temporarily.

Also, disable secondary connections. 
Final Words 
Now, you are well-familiar with how to change DNS on Netgear router. Follow the steps in this article and change the settings quickly. If you face any problems following the steps, feel free to contact router customer support services. The professional will guide you in changing the settings. They will also resolve any other issue related to your Netgear router.