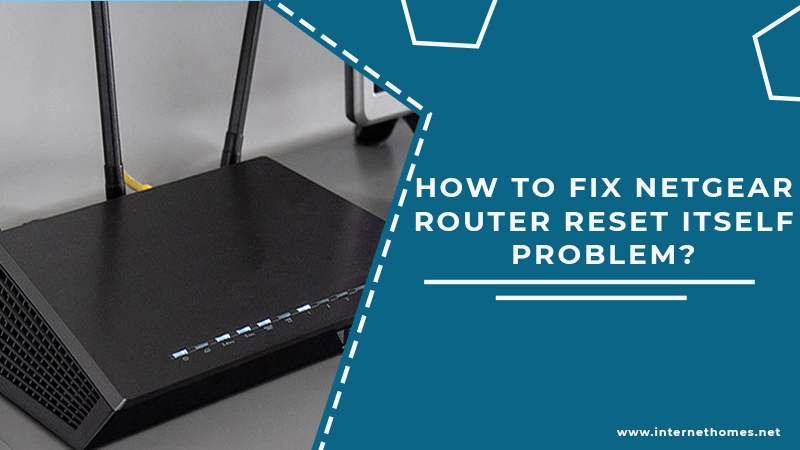 Spontaneous default factory resets is dreadful as it deletes all personalized settings including username, password, Wi-Fi network name (SSID), and security settings. A major number of users have reported that their Netgear Router Reset Itself to factory settings. In general, routers don't reset themselves by default without your permission. But, if it is happening so, it means the hardware is damaged or not in well-condition. Furthermore, power fluctuations, updates, or a stuck button can also be the one possible cause due to which your Netgear router keeps resetting. Luckily, there are some effectual troubleshooting techniques to help you out in resolving this issue. Read the blog post carefully from top-to-toe to learn the proactive fixing steps.
Why Does My Netgear Router Reset Itself?
There can be massive possibilities of Netgear Router Resets Itself. Let's have a deeper glance at all of the feasible responsible factors:
If technical glitches arise during an update, the Netgear router will continuously be performing a factory reset on its own.
Faulty/Stuck Reset Button
Since the hardware reset button is located inside a pinhole, there is a high chance of the reset button being stuck. Hence, this can be one reason Why Does Netgear Router Reset Itself.
Less/Minimal Power
Everything from a power surge to insufficient power could have caused a continuation of Router Reset Itself to factory settings default.
4. Software Tech-Errors
Sometimes, developed software is unreliable and causes a wide range of weird operations. Thus, operating glitched software can lead to the Netgear Router Reset Itself error.
Solutions To Fix Netgear Router Reset Itself Problem
Not all users are experienced router endlessly reset itself type of problem. Only a few Netgear router users confront this issue. For them, we have compiled as simple as possible solving guides which are explained underneath. Therefore, you shouldn't have to be worried anymore if your Netgear Router Resets Itself unconditionally. Let's give a glance at below and implement each solution unless the router stops resetting to factory default.
You Might Also Like- How To Solve the Orange Light on Netgear Router Problem?
Solution 1: Disable The Auto-Update
The auto-update feature is probably enabled by default and hence the router starts updating automatically every time it is available on the web. In order to make your router stop performing a factory reset, you need to disable the auto-update feature. Here's the comprehensive procedure to do so:
First and forecast, open the web browser on your operating system.

Then, browse either of these "routerlogin.net" "routerlogin.com" links depending on whether your router is nighthawk or not.

Now, go to the "Advanced Settings" option.

Select the "Administration" tab.

Give a single click on the "Router Update" tab.

Now, uncheck the "Auto-Update" checkbox.

The auto-update feature is finally disabled.
Now go to the 'Router Update' tab to perform a manual update. If you still notice that the Netgear Router Reset Itself, jump to the next solution.
Solution 2: Verify Your Reset Button
As it is clear that the hardware reset button is in the pinhole and a sharp object is required to get inside the hole. If you do not use a sharp object, it may often get stuck inside and damage the button at the same time. In such a circumstance, your Netgear router will constantly perform a factory reset. Therefore, in order to fix Router Reset Itself problem, use something sharp and slightly push it without any force.
Moreover, you can make a change in the button's position by reaching inside, twisting, pushing, and rotating the thin pin. If yet the same problem exists, continue following the next solution.
Solution 3: Perform A Manual Factory Reset
The software of your Netgear router most probably has a glitch and hence router constantly resists factory settings. There is a need for a manual factory reset so that you can stop this endless loop. Let's do it now:
You have a Windows Desktop PC

Open Command Prompt (cmd) as Windows administrator

Type "/ipconfig" in the command prompt window and hit the "Enter" key

Copy the "Default Gateway" IP and paste it in your browser's search field

Type admin username and password as login credentials

Search for the "Reset" tab

And then choose "Factory Reset"
NOTE: Make sure that the PC is connected to the Netgear network via Wi-Fi or Ethernet cable.
Manually reset would have been extensively required to stop the Netgear Router Reset loop. This will also be effective for your Netgear to start functioning normally and perfectly.
Solution 4: Turn Off & Clean Netgear Router
If Netgear Router Resets Itself to factory settings every now and then, it could be happened due to overheating. Turning off the router device and leaving it for a couple of minutes will solve this issue. Here's what we recommend you implement:
First of all, carefully plug out your router from the power supply

Now, disconnect the Internet and Ethernet cables properly

Leave the device aside for almost an hour.

Let it be cool and power drain completely.
While the device is cooling, use a vacuum cleaner to suck dust from the air gaps on the backside of the router. Now, check if the Netgear Router Reset Itself problem has been sorted out from the root or not. If yet it continues, jump to the next solution.
Solution 5: Fix The Reset Button
Since the reset button is the major aspect, beneath we've prepared a suitable guide for you. Let's execute:
At the bottom of your Netgear router panel, unscrew the 6 screws

Now, lift-up the bottom panel to open it

Afterward, peel-off the 4 black stickers holding the wiring linked to the PCB

Take an exact picture where the wirings are soldered

Slightly take out the 4 wires from the PCB by pulling them upward

Now, unscrew the 5-consecutive screws holding the motherboard

In the end, carefully lift up the PCB and place it aside

Now, you will have a clear picture of your hardware reset button

If the reset button is stuck or damaged or pushed inwards, disconnect the power button and remove it.
Once you are ensured that the router is no longer using the damaged button as an input, the router won't reset itself.
How To Factory Reset Netgear Nighthawk?
The Steps Involved In A Nighthawk Factory Reset Using The Reset Button Are:
First, make sure that the Netgear router's Power light is on.

Now, locate the "Restore Factory Settings" or "Reset" button at the backside of your device.

Use a paper clip or similar object to push with a little force and hold the Reset button for 5-seconds.

Now, release the "Restore Factory Settings" or "Reset" button.

Finally, your Netgear router has been reset to factory settings successfully.

When you log in to your router again, provide the default login details:

User Name: admin

Password: password
The Steps Involved In A Nighthawk Factory Reset Using App Are:
Download the Netgear Nighthawk App on your mobile device (Android/iOS).

Now, open the app and log in to your Netgear router account.

Now, go to the "Settings" section of your Nighthawk and locate the "Reset" option.

Select this option and let your

Nighthawk Factory Reset

by default.
This is How To Factory Reset Netgear Nighthawk using either the reset button or the Nighthawk app.
Read Also- How To Fix The Netgear Factory Reset Not Working Problem?
Connect With Deft Connoisseurs If Yet Netgear Router Reset Itself
If your Netgear router is still resetting to factory default, don't feel blue! It is our advice to get in touch with the technical expert team to take aid. The expert techies will surely lend you a fruitful hand in order to eliminate the Netgear Router Reset Itself issue. Connect with them via dialing the 24×7 helpline number.