Xfinity offers great internet service to its users. The service is unrivaled in terms of quality, speed, network strength, and cost. People can make use of speedy and smooth internet connectivity from the comfort of their home or office. Domestic users of Xfinity can avail of the services at very reasonable prices. Thus, it's easy to leverage telecommunication services like cable TV, phone, and internet with a single plan. Xfinity also enables users to access their Wi-Fi login page in order to resolve any networking problems that might occur. But at times, people find that the Xfinity wifi login page won't load. This problem can be treated if you know the right troubleshooting techniques. This article will delve into that.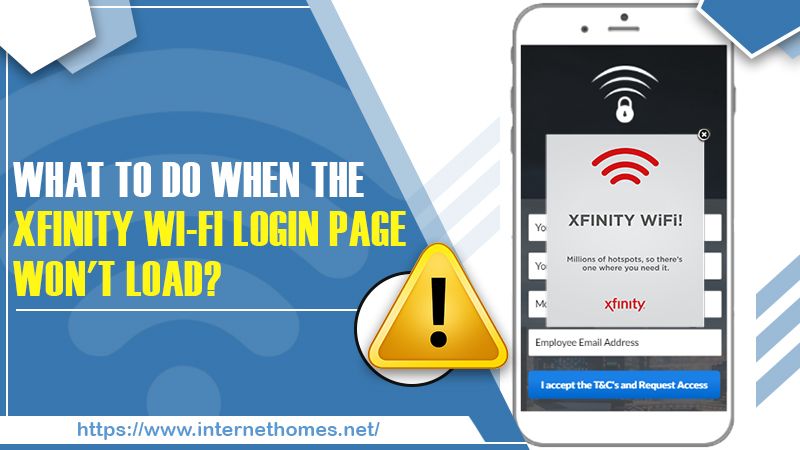 Common Problems Users Face When Xfinity WiFi Login Page Won't Load
People often face some common issues when they try to access the Xfinity login portal. They are described below.
Slow speed of the internet – As a huge number of people use the Xfinity internet service, it makes the Wi-Fi hotspot congested. A large number of internet service users with great internet connectivity can cause problems with the speed of the internet. 
Inability to connect to the internet – It occurs mainly due to an ISP problem, equipment issues like that with your Wi-Fi router, or inability to use the captive portal login page. 
Connectivity dropouts – The major reason behind this problem is that the Wi-Fi router is kept very far from you. 
Ways to Fix the
Xfinity Wi-Fi Login Page Won't Load
Problem
There are numerous ways you can troubleshoot this problem. Given below are certain effective measures you can take. 
Disable your VPN connection
A connection that is VPN enabled does not let a user load the Xfinity Wi-Fi page. It is because they are built to load on only particular IP addresses to give your system and Wi-Fi network maximum security. Therefore, ensure that you don't have any VPN extensions on your browser with which you want to get access to the Xfinity wifi login page. After you disable all VPN applications, restart the browser. 
Remove cache
When your browser takes time to load, it is often recommended to clear caches and cookies. Cookies refer to small data bits that get loaded on websites to give you a good browsing experience. When you navigate to the same site at a later date, the browser displays the stored files or data to minimize the loading time. Although web developers make many updates on the files on their sites, the cached files remain in their old versions. It is what leads to many login problems and hinders the effective loading of web pages. If you are experiencing a problem with the loading of the Xfinity Wi-Fi page, then this is an easy way to troubleshoot the problem.
You can use 'Private browsing' on Firefox or 'Incognito mode' on Chrome to open a browser that's not using cookies. If you find the page loading properly in these places, it means that cookies are the main reason for this issue.
Use another device
Suppose you have disabled the VPN and are using another browser to get access to the login page but cannot access it. In that case, you can try using another device. You need to link another system with the Wi-Fi network and try to access the page on that device. Often, a particular IP address assigned to a system can be the reason behind the problem. Are you able to access the login panel on another device? It means that Xfinity wifi hotspot login page won't load because of the IP address. 
Start your router again
If you're still finding yourself struggling with this issue, you can simply restart your router. Press the power button and switch it off. Turn on the router after a few minutes. You will find that it starts working again. 
Reset default settings
If you find that even after restarting the router, you cannot load the admin panel on different devices, then your router settings may be behind this problem. To reset the router settings, begin by pressing and holding the reset button at the back of it. Press and hold the button for 10 seconds. It resets the router to the default settings. It also clears settings that may lead to the error. Here you need to remember that resetting the router will also reconfigure all the settings to default, such as DNS settings. IP address, SSID, encryption, and password. You will have to reinstate your desired settings. 
 Read Also-  Know How To Remove Devices From Xfinity WiFI?
Get in touch with the customer support if the Xfinity wifi login page won't load
Often, it so happens that many users follow various troubleshooting techniques yet still find that the Xfinity wifi hotspot login page won't load. If you are also facing a similar issue, there might be some problems at Xfinity's end. Xfinity modems and routers provide you with the option of having an error log. Error log effectively aids in diagnosing any problem that might lead you to experience trouble with your internet connectivity.
 If you use a coaxial cable, and cannot connect with the internet while everything else seems to be working properly, inspect the error log on your modem or router. For this, you can get in touch with the customer support team of Xfinity. The support team professionals are highly experienced in dealing with all sorts of problems related to it. They can help you to diagnose the problem and fix it for a better effect.
Summing up
You might have observed that there are numerous ways to fix the Xfinity wifi login page won't load problem. Start by disabling your VPN connection and removing caches from the browser. You can also restart your router. Get the help of the Xfinity support team if the issue persists even after you implement the techniques explained above.