The internet has become a common part of everyone's life. But it can certainly feel annoying when you cannot access it due to some problem. The Linksys router is used by countless people worldwide. But many people also get an error about invalid IP address range.
This issue hinders them from using Linksys routers and connecting to the internet. So, it's essential to know how to change the router IP address Linksys and gain access to the internet once again.
In this article, you will get to know about the methods by which you can fix this problem and get back online quickly.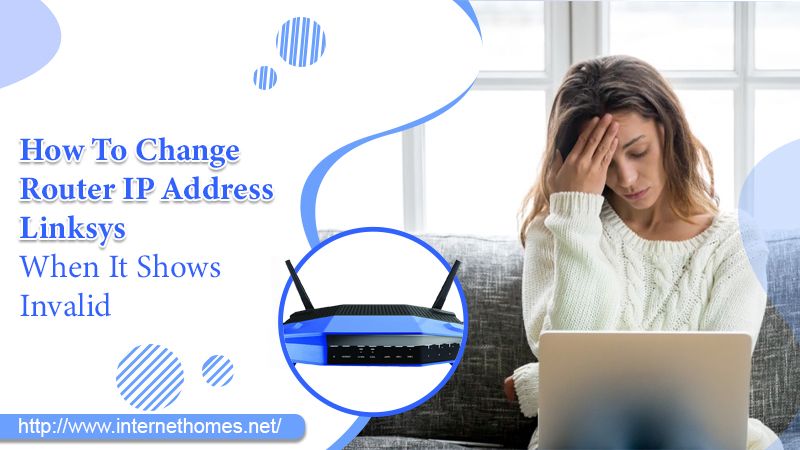 Why Should You Change the IP Address of Linksys Router?
An Internet Protocol or IP address is a distinct identifier. It comprises four number sets starting from 0 to 55. These numbers are separated by three dots. IP address is needed by every device in the network to link to the internet. 192.168.1.1 is the default IP address of a Linksys router. 
Modifying or changing the IP address of the router proves to be helpful to eliminate problems like IP address conflicts with the modem and router. It can also prevent IP address conflicts when linking one router to another. The cause behind IP address conflict is two devices having an identical IP address. It results in the internet connection getting lost.
How to Change Router IP Address Linksys
It's easy to change IP address Linksys router. Keep following the various instructions given below.
The foremost step is to sign in to your Linksys account. To do that, open a web browser and input the default IP address of your router. As mentioned before, it is 192.168.1.1. You can also input 'myrouter.local' on your address bar.

Fill in your Linksys router password. The default password of the router is admin. Hit '

Login

.' You can also sign in through your Linksys cloud account. Tap the link present in the bottom part when you notice the Linksys Smart Wi-Fi Sign In page, fill in your email address and password.

Tap'

Connectivity

.'

Now tap the tab of '

Local Network

.'

Click '

Edit

.' It's beside '

Router Details

.'

Fill in the IP address that you desire for your Linksys router. You can use the following IP address for your router.
10.0.0.0 till 10.255.255.255.

192.168.0.0 till 192.168.255.255

172.16.0.0 till 172.31.255.255
Note that the '

Host name

' is the name of the router. To segment a network into subnets, the '

Subnet mask

' is used. It enables data to be routed accurately and adequately to all your devices and systems. 

Modify the '

Start IP Address

' to the same exact IP address range of your Linksys router beneath '

DHCP Server

.' The range can be anywhere from 2 to 254. If the new IP address is 192.168.5.1, the start IP address will be 192.168.5.100.

Tap the '

Apply

' button. You can see it on your page's lower right part.

Tap '

OK

' on the pop-up screen.

Now, turn the power of your router off for about 30 seconds. After that, power it back on. You have successfully carried the process of

Linksys router change IP address

. Your router will have another IP address now. You will require this IP address when you access the router in the coming days. 
What to Do When the Server IP Address Does Not Fall in the Valid Range
When you find the server IP address is not in valid range you can implement the method given below to fix it. It's quite easy to understand and follow along.
Upgrade your Linksys router firmware
You should follow this method when you notice the IP address is not in a valid range. Firstly, you need to check the firmware of your router. After that, you should update it. 
Link to your router's cloud account. You can do it by accessing the default IP address of the Linksys router. Type it on your browser's address bar.

Input the password of your router and then tap '

Login

.' Remember that the default password is always admin.

Now, tap '

Connectivity

.'

Go down under the tab of '

Basic

.' Then find the section of '

Firmware Update

.' Now check the version.

If it isn't updated, you should download the recent router firmware by going to the support page of Linksys router. 

Once you are there, you only need to enter your router's model number.

Sign in to your router's cloud account and tap '

Connectivity

.'

In the '

Basic

' tab, go to the section of '

Firmware Update

.' Click the button of '

Choose file

.'

Go to the location where the firmware has been downloaded. Select it and tap '

Open

.'

Hit the '

Start

' button in the software and tap '

Yes

.'

After that, wait for your firmware to get installed. After it installs, restart your Linksys router.
Network administrators use the standard Linksys IP address that is 192.168.1.1 to update settings for a current router or to set up a new one. You can also use this address on business computer networks. Any device, like a printer or a computer, can be configured to use the default IP address. But it's not wise to do as it can lead to IP address conflicts. 192.168.1.1 falls in the category of the private IP address range. It is commonly utilized for private networks. You should change your router's IP address only when you are unable to connect to the internet because of an invalid IP address error. 
Final Thoughts
Now you know how to change router IP address Linksys properly. You can follow the steps and change the IP address to access high-speed internet. However, if at any point you feel stuck or some error prevents you from changing the IP address smoothly, contact Linksys technical support service immediately. The Linksys expert support staff will help you fix all kinds of router-related issues.