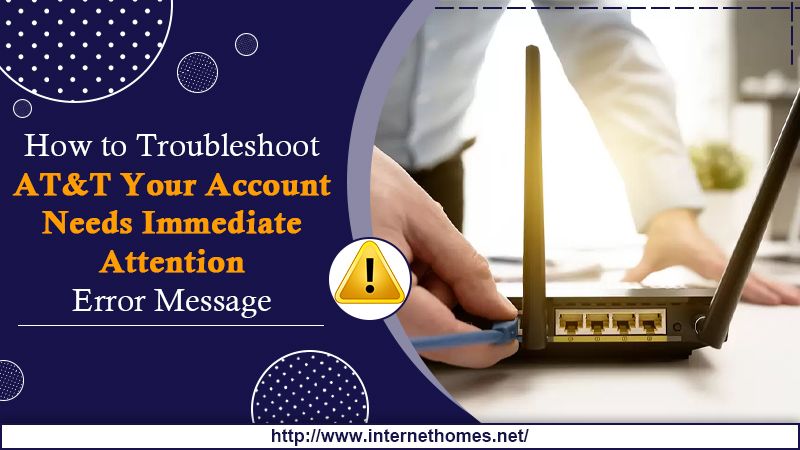 AT&T is a renowned name in the mobile telephone services domain in the US. It also provides high-speed internet that people everywhere in the US enjoy. But many users have reported encountering the error message 'AT&T your account needs immediate attention.' This error message is not limited to only a few users.
When you happen to see this prompt, it's important to check if you have made the payments. Only after that should you implement other troubleshooting measures.
In this article, you'll find out the meaning of this error and how you can remove it.
Why Does the Prompt '
AT&T Your Account Needs Immediate Attention
' Appears?
Before getting to know how to resolve this problem, you need to understand what it means in the first place. Do you know why exactly you see this prompt on specific pages and websites? Many people are of the view that the error prompt AT&T account needs immediate attention occurs due to the user not making payment on time. However, this is only one of the causes. 
There are other causes too, that may lead to this error prompt. These include:
Your router or gateway's firmware is not updated.
Gateway or router issues.
Troubleshoot
AT&T Your Account Needs Immediate Attention Error
The measure to resolve this issue range from checking your payment to getting to know the most complex DNS settings. Follow the stepwise instructions for various troubleshooting techniques, and you'll definitely find a solution.
1. Double-check your billing
It is the very first step in resolving this error prompt. Check your billing and see if you haven't made any one of your payments. Most AT&T customers find that they are behind their payment. So, ensure that you are up to date with it.
Start by going over to your email. Find out if you have an invoice from AT&T. You can also navigate to the myAT&T app. There go over to the 'Billing & Payments' section and check. 
2. Power cycle your gateway
After the step mentioned above, you can progress to the power cycle or restart your gateway or router. To start this process, go to the gateway or router and find the power button there. Once you find it, press it. You can also perform the steps given below.
Identify the power cord of your router or gateway.

Take it away from the wall outlet or from the device's back.

Wait for a period of 15 to 30 seconds before you plug it in again. 

Now, wait till the device refreshes.
Read Also- How You can Disable WPS Button On ATT Router
3. Inspect the software of your router
It's another resolution for the error prompt 'ATT your account needs immediate attention.' You need to check your gateway's firmware. This firmware makes your router run. To do it, follow these stepwise instructions.
Start by accessing a device that is linked to Wi-Fi.

Input'

att(dot)wireless internet

' on your address bar.

Next, choose '

Admin Login

.'

Sign in to the admin profile. For it, use the credentials present at the bottom or end part of your router.

After that, choose '

About Your Device

.' It is present on the left side panel.

Then, check '

Firmware Version

.'

Next, tap the button saying '

AT&T Software Update

' on the same panel.

Now you will notice the availability of software updates that are pending.
4. Change to Open DNS
Another issue that's causing you to face the error prompt 'AT&T your account needs immediate attention' can be related to the DNS AT&T you are currently using. It is where you have connected automatically. You can try to modify or switch to Open DNS. For it, go through the steps mentioned below.
Navigate to '

Control Panel/System Preferences

' on your device.

From the given list of options, choose '

Network

.'

Now select the connection you are currently using and choose '

Advanced/More Details

.'

Now switch to the '

DNS tab

' and input what's given below to the DNS servers. 
208.67.222.222
208.67.220.220
5. Flush the cache of the DNS
The last step to resolve the error 'AT&T account needs immediate attention' is to flush the cache of the DNS. When you flush the cache, it refreshes the DNS connection of your system to the new server. Both Windows and Mac OS users can do it easily. To flush the DNS on Windows, follow these steps.
Through '

Search

' get access to the '

Command Prompt

.'

Input'

ipconfig/flushdns

.'

Wait for some time for the confirmation of the DNS server being flushed.
Mac OS users should follow the steps mentioned below.
Through '

Spotlight Search

' navigate to the '

Terminal

.'

Next, input '

sudo dscacheutil -flushcache

.' 

Now, wait for some time for the confirmation.
When you have completed this process, you should not find yourself dealing with this error prompt. It would have been resolved. You only need to carefully adhere to the steps mentioned above to get rid of this problem.
Still Facing
AT&T Your Account Needs Immediate Attention
Error Prompt?
Have you tried out all the methods given above but still find yourself facing the error? In this case, you can directly reach out to the customer support team of AT&T's high-speed internet. Remember that when you are contacting them, you need to be very particular. It's because apart from the internet, there are other departments also like AT&T home phones, AT&T TV, and DIRECTV.
Notify the internet support team about the error prompt you are facing and the steps you have taken till now to resolve the error. They'll surely help you resolve this issue. 
Read Also- How To Change Wi-Fi Password ATT
Final Words
By now, you must be clear about all the different causes behind the error message 'AT&T your account needs immediate attention.' There's much you can do to troubleshoot it on your part. Double-check your billing. After that, power cycle your gateway. You should also inspect your router's software. Changing to Open DNS can also resolve the issue. Connect with Internet Homes' customer support if the error prompt does not disappear.