Most of you are using ATT Uverse Router to securely and safely access your internet on the operating device. However, to be prevented from technical glitches, it is mandatory to keep your router at the safest place. Never know when the problematic hurdles like unstable connection, the router keeps on overheating, or anything else could occur. Sometimes, it's not enough to just restart your router as resetting the router to factory settings is extremely required. If you are not enough skilled to perform the same, don't worry! The blog post teaches you How To Reset ATT Router in a very simpler way. Don't divert from this path, continue reading to grab relevant information regarding resetting the router.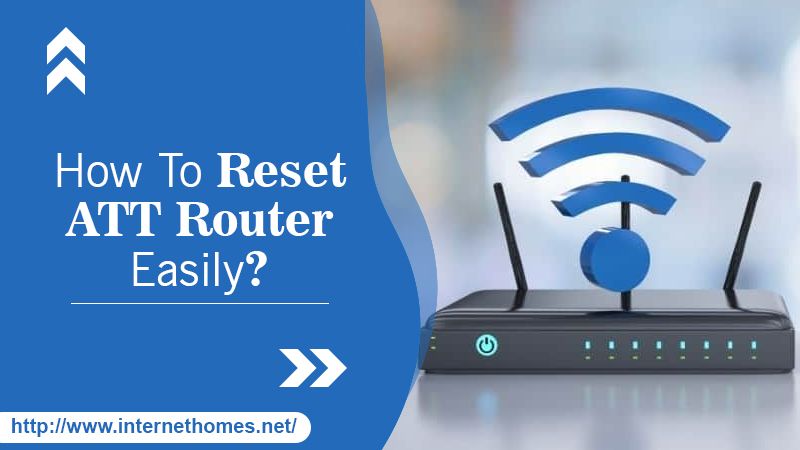 Why Need To Reset ATT Uverse Router?
There can be several possible reasons for which you need to Reset the ATT Uverse Router instead of restarting your router. Some of the most wanted scenarios are enumerated underneath:
     

When your AT&T router is not working properly

     

Unable to log in to your network

     

When facing incorrect login credentials

     

When you have an unstable net connection

     

The router is getting overheated

     

Have any kind of trouble with your AT&T U-verse router

     

When you can't smoothly connect to the internet
How To Reset ATT Uverse Router
Before attempting to reset your AT&T U-verse router, it is recommended to make a backup of your important data. This is being suggested just because resetting your router will erase your crucial data or login info. When you do a factory reset to default, all your routers' data, network settings, and configurations will be permanently removed. So, always be aware of that!
Ways To Restart AT&T U-verse Routers
Restarting simply reboots all services and allows your router to function well. Additionally, any temporary glitches or bugs are present will automatically be disappeared from the root. In general, there are two feasible ways through which you can restart your router. Thus, now perform the provided two methods separately in a way to Restart AT&T U-verse Routers. Here's how:
Ways 1: Manual Restart
The instructions are noted below:
First and foremost, press the "Power" button placed at the back of the device to turn it off completely.

Now, slightly remove the power cable from the wall outlet.

Afterward, wait for at least 3-4 minutes for optimum results.
Now, plug the power cable back into the wall outlet and again press the Power button. This time the router will be turned on.
Now, in the end, wait for your router to restart.
Wait for a couple of minutes until entire services are online back and your router will be successfully restarted. If your router works properly, it means the bugs or errors have been resolved.  
Ways 2: Remote Restart
Here's how to restart your router from your computer:
Enter your router's Control Panel.
Now, select the "Settings" tab and then click the "Restart" button.

N

ow, press the resets link and provide the current device access code.
In the end, wait for your router to reboot.
After a point, your router will be successfully rebooted. If, restarting your router doesn't work in terms of fixing connectivity issues, let's try to reset it.
 Also Read- How To Fix The ATT WiFi Speed
Quick Ways To Reset ATT Router
If you are wandering to know How To Reset Wi-Fi Router, here you go. In the beneath section, we will show you the fruitful ways to reset your router. But before implementing the provided steps for your router's factory settings, remember one thing – Custom changes that have been made recently to its configuration, your Wi-Fi network name, and IP address will be permanently deleted. So, it is always recommended to make a complete backup of your router's info so that you can anytime restore them. Now, start performing Reset ATT Router with the help of the below-noted instructive guidelines.
Ways 1: Use The Reset Button
Here's what to perform:
Press and hold the "Reset" button on your AT&T Wi-Fi router for at least a couple of seconds. After waiting for that, release the reset button, the gateway will reboot, but it won't reset.

Now, wait till the gateway restarts completely and all the status lights are lit.

Check to see if the Broadband or Service status lights are solid green. If so, the reset is been successfully done.
You can start using your router for a great connection to your computer system.
Ways 2: Reset Through The Admin Interface
You can prefer this option for ATT Uverse Router Reset if your AT&T router configuration working and you have an admin password. The required prerequisites you have to gather before executing the resetting process are:
Have access to the AT&T network
Know the IP address of your router

Know the correct router password
Once you have compiled all these things, let's start resetting your AT&T router:
First, open any web browser on your system
Navigate to the IP address for your router

Common IPs for AT&T routers are
ü  192.168.1.254
ü  192.168.1.1
Now, log in to your device using your correct username and password. The most common combination for AT&T routers is None / attadmin.

The reset page may be a bit different depending on your AT&T model.

Now, navigate to Settings > Restore defaults.

Click the "factory reset" / "restore" option and give confirmation if required.

Wait for a while for the router to reboot.
After doing so, your AT&T Wi-Fi router is now reset to its factory defaults.
Read Also- How To Change NAT Type On ATT Hotspot
Contact Dexterous Techies For One-Stop Support
Now, you probably know How To Reset ATT Router. If in case, none of the methods has helped you out in resetting your WI-FI router, don't pull your hair. Just place a single call at the provided helpline number. Your call will be entertained by one of the proficient tech specialists who are extra-talented and highly experienced. Hence, after getting in touch with talented techies, the instant guide will be at your fingertips.