Today, no individual can do without a good internet connection. It is needed for doing almost every other task daily like shopping online, sending emails, video conferencing, and talking with your friends. AT&T is a renowned name in the US telecom industry. It offers high-speed internet in America that allows people to stay connected. However, when att internet keeps disconnecting, it can come across as a troublesome issue. It's essential to understand the root causes of this problem so that you can troubleshoot it effectively. In this long post, you'll find all the reasons and the ways to resolve this problem.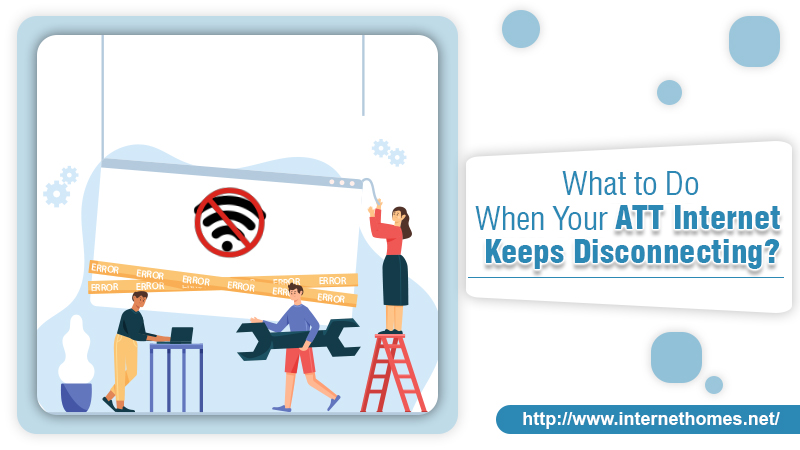 Why the
ATT Internet Keeps Disconnecting
?
Many variables contribute to a low-performing AT&T internet connection. Some of the probable reasons that might be triggering your internet to disconnect unexpectedly are explained below.
Overloaded network provider
People often find that att Uverse internet keeps disconnecting because of a busy network. When several devices are linked to the in-home network, the likelihood of experiencing a smooth internet connectivity drops. If four or five devices at your home are consuming the internet for HD gaming, then they would need a lot of power. When the network provider is overloaded, a stable connection isn't established. 
Weak network connectivity
AT&T has been offering people various services like unlimited accessibility of Wi-Fi hotspots, and high-quality internet equipment for in-home Wi-Fi. But there can be times that it may appear to you that you are linked to a network, but you don't receive a smooth response. 
Such a problem occurs when there is no stable connection between your device and network. It can happen because of incorrect password and username combination or the user connecting through a crowded Wi-Fi network.
Low network strength
Another common cause that might lead you to complain that your att internet keeps disconnecting is related to the strength of your network. The in-home Wi-Fi network signal's power is directly related to your wireless connection's performance. If the signal range is absent, then you'll experience an unstable internet connection. It can be because of the distance you from the AT&T gateway device or a hindrance in its path. 
Hardware problems
Your router and the internet modem should be in good condition to operate optimally. Both of them play a massive part in the performance of your internet. Although AT&T rents out devices from reputable industry names, sometimes some problems can occur. So, if you find your internet continuously dropping, you can consider rebooting your gateway equipment.
How to Fix the Problem of
ATT Internet Keeps Disconnecting
You can fix a lot of AT&T internet connection problems easily. You just have to recognize the cause behind it. Then follow these troubleshooting instructions to resolve the issue.
Use the Smart Home Manager App
You can troubleshoot a lot of problems with the free Smart Home Manager app. Those using the AT&T gateway devices given below can use these apps.
Arris NVG599

Pace 5268AC

BGW210

BGW320

Motorola NVG589

Pace 5031NV

2Wire 3600HGV

Pace 5168

2Wire 3800HGV-B

2Wire 3801HGV
The Smart Home Manager app is an excellent AT&T internet tool that allows users to handle their in-home wireless network. You can modify your Wi-Fi network data, monitor data consumption, enforce parental control, or run your network health check.
Reset your network info and start your device again
A simple way to fix the problem of att uverse internet keeps disconnecting is to reset the network info on your laptop or smartphone. Then, you should restart the internet-enabled device. Try to clear your AT&T network from your listing of Wi-Fi connections. Then start your device again. After that, connect again by entering the network information manually again.
Also Read- How To Increase ATT WiFi Speed
Check modem environment
The environment of your AT&T gateway impacts your connection's performance. For a good experience, place the modem in a primary location that's way above the floor panel and does not have any obstruction. Remember that even speakers, when placed closely, can affect your AT&T internet connection's performance. 
Keep the modem at a distance of 3 feet from any electronic gadgets. Put it on a surface that's stable and hard. The room where you place it should have proper ventilation.
Optimize your Wi-Fi signal
Users using gateway devices like 5268AC, NVG599, BGW320, or BGW210 can get help from the Smart Home Manager app to enhance their Wi-Fi network's performance. All you need is to navigate to 'Help' on the app and input 'Do I need smart Wi-Fi extenders?' After that, adhere to the prompts.
If you find the att internet keeps disconnecting due to weak signal strength on moving away from the gateway, then the resolution is very straightforward. Use the Smart Wi-Fi Extenders, which will form a mesh network spanning a greater number of parts of your house. These parts can otherwise be only dead zones. 
Reboot the gateway
A reboot removes the limited device memory. It resets all the pending jobs and enhances the internet connection's performance on the whole. For doing it, use the Smart Home Manager app. Follow these steps.
Sign in to the app and choose 'Network.'
Navigate to 'Home Network Hardware.'
Choose 'Wi-Fi Gateway' and choose 'Restart.'

Now see your internet connectivity.
Update the network adaptor 
Another reason behind this problem can be an outdated network adaptor. You can check the status of your network adaptor in Windows by navigating to the 'Device Manager' menu. In Mac, you can check it by navigating to 'System Preferences.' Routine updates on both these operating systems typically take care of the updates. However, if you discover a discrepancy, go to the website of the network adaptor's manufacturer for the most current version. Download and install it on your device.
Also Read- Learn How To Reset ATT Router Easily
Final Words
Users of AT&T internet service should be aware of the varying causes of this problem. Only then can you resolve the issue of att internet keeps disconnecting. Reset your network info and then restart your device. Also, check the modem environment and adjust the placement of this device accordingly. Users of gateway devices like 5268AC, NVG599, BGW320, or BGW210 can benefit from the Smart Home Manager app to optimize their Wi-Fi signal performance. Contact AT&T customer support if the problem persists.