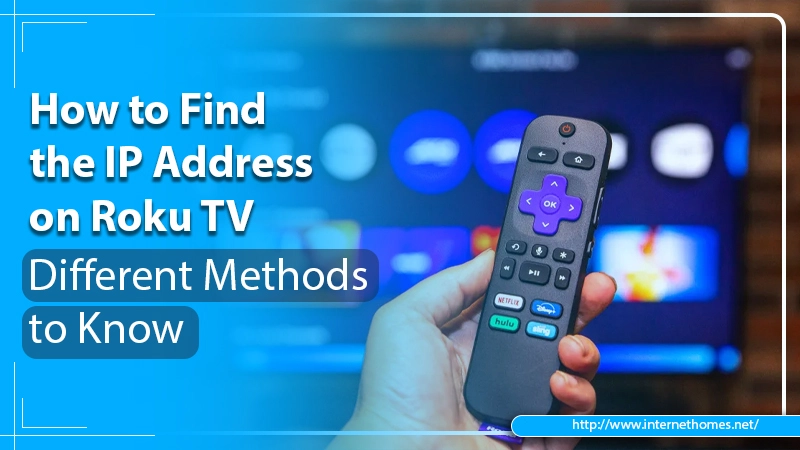 Today, there are innumerable streaming devices, remotes, and mobile applications. As a result, most people find putting on and watching a show quite difficult. However, Roku comes as a breath of fresh air since it makes watching TV uncomplicated and convenient. The device is very user-friendly compared to others in the market. But you must know how to find IP address on Roku TV to use it. You can locate the IP address through Roku remote, router, or the add-on for Chrome users. Most Roku users grapple with this problem, but it's time to end your worry. In this article, you'll find exact stepwise instructions on finding its IP address. 
How to Find IP Address on Roku TV
?
If you are unable to find the IP address within Roku's menus, you can find it manually. To find Roku manual IP address, follow these points. 
Begin by checking whether your device is visible or not. Do it by navigating to the '

Network Setup

.'

If the device is '

Visible

,' you'll view '

Awake

' written on the screen. 

Next, tap '

Settings

' and navigate to the network from your device.

After inspecting your network connection, tap the option that says '

Try Again

.' It's available on the mobile app of Roku. 

Exit the Roku app if it isn't working.

Switch off the Wi-Fi and then re-enter the app. 

Confirm that your phone and Roku device are on a single network. 

After you switch on the phone, tap 'Settings' and view your network's IP address. 

Tap '

Settings

' and navigate to the '

Wi-Fi

' option. 

Now, head over to your network name. 

Write the IP address, which is in a four-part number.

To check the IP address of the Roku, navigate to '

Settings

' followed by '

System

' and then '

About

' on the Roku TV.

For the other Roku devices, navigate to '

Settings

' and then to '

About

' of your Roku device. 

Put the number beside the '

IP address

.'

If you find the first three of the four numbers of the IP address are the same as your Roku device's, it implies that both your Roku device and phone are on the same network.

If you find the numbers matching, tap '

Connect Manually

' in your phone app and continue according to the directions you see on the screen. 
Read Also- How To Fix Roku Won't Connect to Wi-Fi?
The process to Find
Roku IP Address
without Remote or Wi-Fi
It's not always possible to directly access the menus of your Roku. So, it's essential to know how to find Roku IP address without Wi-Fi. Here are some different ways you can find it.
Using Remoku Chrome extension
Remoku is a web application that allows you to employ a virtual remote on your system to control Roku over the network. Due to it, it requires functionality to find and connect to Roku devices on the network. 
Open Chrome and go to its Web Store. It is present as a link in the bookmark's bar.

In the Chrome App Store, look for '

Remoku

.' Consider the first result.

Choose '

Add to Chrome

' to add Remoku to Chrome.

Launch Remoku through the icon in the upper-right part of the Chrome window. It will open the virtual remote. 

At the top, choose '

Settings

.' The box of the settings menu will have the tools necessary for linking to your Roku.

Pay attention to the first two lines only. In the first one, make the IP address align or match your network. The next line allows you to define how many Rokus are on your network and begin scanning to locate them.

Remoku will scan your range of IP addresses and find the ones that are for the Roku devices. It will list them out so you can easily find

Roku IP address

.'
Using Router
This method to find the IP address of Roku is for those who prefer a direct approach. So don't worry if you still haven't found an answer to your question, where is Roku IP address. You can find it by using the router. 
Open the web browser and go to your router's admin interface. 

If you see a host of connected devices, then it's okay. However, if you don't see them, browse the status pages by logging into the router. All these status pages have crucial information. 

The router lists all the Roku devices by their hostname beside their IP address. 

If you don't see that, locate the Mac addresses in the listing of devices columns. 

But if the data doesn't display, you can go to sites like whatsmyip.org to search for it. 
TIP – Some routers display the Mac address in the interface. To view that, select the Mac, and the data will show in front of you.
Using serial number
If you're still unable to find the IP address, you can also think about connecting to customer support with the serial number of your Roku device. You can speak to them through live chat or by calling on +1 844 244 1311. 
Frequently Asked Questions
Is it possible to connect my Roku to a wireless network without a remote?

Yes, it's totally possible to connect your Roku to Wi-Fi without a remote. You can do it through the Remoku application. You can also do it through your router or by serial number.

What is the default IP address of Roku?

There is no default IP address of Roku. It has just an IP address when it's linked to a network. The router determines the IP address of Roku.

How can I set up Roku without a remote?

You can easily set up Roku without a remote. Just download the app, open it and follow the instructions. Tap 'Devices' and choose your Roku. Ensure that it is on the same Wi-Fi network as the phone.
Final Words
By now, you must have no doubts about how to find the IP address on Roku TV. You can do it with a couple of different methods. However, suppose you are still unable to locate the IP address. In that case, it's best to connect with professional hardware customer support service. The support professionals will help you find your IP address and resolve all the errors you face in this process.