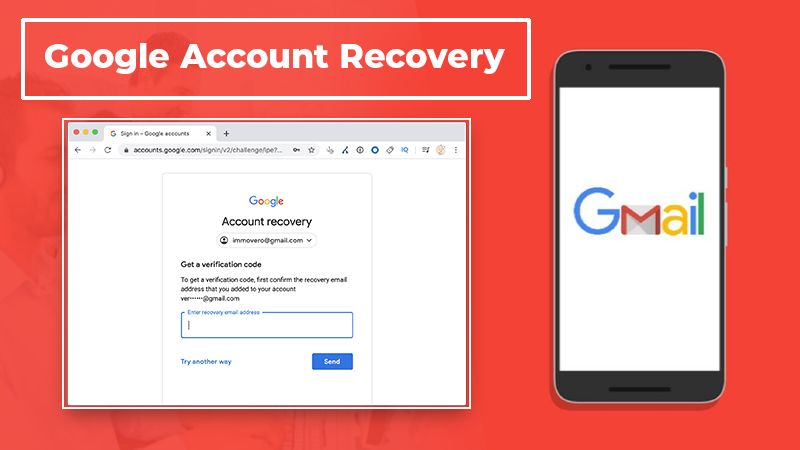 We often forget our Google password or get locked out of our account due to various reasons. With Google account recovery methods, it is possible to get back to our accounts without wasting any time.  In this article, you will find steps to recover your Google account through various means that include, phone number, date of birth, etc. Let's not waste any time and get started with the steps right away.
What To Do When Google Account Asks For Verification?
Sometimes, when you try to sign in to your account, Google asks you for verification. This is just to protect your account from any unauthorized access. You will see a list of options on your screen that you can use to verify your account. The options include:
Receiving a verification code on your Google account recovery phone number.
Receiving the code in your email.
Getting a prompt on your mobile device.
Using fingerprint or screen password to grant access and verify.
If after trying the above verification methods, you couldn't get access to your account, then don't worry and do this.
Choose the Security Questions option and answer as many questions as possible. If you don't remember the answer problem, give your best guess. It might work.
 Every little detail matters so answer the question carefully. You need to pay attention to every detail including where to use lower case and where the capital.
When Google asks you to verify the last password you remember, enter the password as you remember, again give your best guess.
In case, you have no recovery option and you don't even remember the security questions properly, then try to pass the test with guesses.
How To Recover Your Google Account?
Gmail is the best and free email service available worldwide. Still, there are times when you can end up getting pissed. When? When you get locked out of your account or don't remember its password. There's no need to get frustrated when you can simply get back to your account by following the Google account recovery steps mentioned below:
Open your web browser and visit g.co/verifyaccount password reset website.
Now you need to enter your Gmail address in the given field.
Hit the Continue button.
Select the "I Don't Know" option when asked to enter the password.
Alternatively, you can enter the last password as you remember and click on the eye (show password) icon.
Check your account password from password.google.com.
Now you will receive a Google verification code or you can verify your account from g.com/verifyaccount too.
Once you have verified your account, you can sign into it using your account credentials.
Google Account Recovery Using Phone Number or Email
If you had added your mobile number as an account recovery on Google account before, then you can use it to get back to your account. In case you are signed in to your account from any device, you still can add an email or phone for recovery purposes. Below we have mentioned the benefits of adding a phone number to your Gmail account.
Helps in verifying that the account belongs to you.
Prevent unauthorized access
Helps you recover your account easily
Here are the steps you can follow to perform Google account recovery using your phone number or email.
Open your browser and visit the Google account recovery page.
Enter your Gmail address that you want to recover.
Click on Next and select the recovery option.
If you have access to your recovery phone number then choose that option otherwise select any other.
Click on Send code and check your phone for the verification code.
Enter the code in the given field and select Verify.
Once the verification is completed, you can create a new password for your account.
Congratulations, you can now sign in to your account using the new credentials. If you wish to perform the Google account recovery using your recovery email, the steps are the same but you need to select the "get a code on email" option.
Steps To Perform Google Account Recovery Using Date Of Birth
Another way to recover your Google account is by Date of Birth. This will work if you have set your Date of Birth as your security question. Use the steps mentioned below and see if the method works for you.
Open the Google account recovery page on your web browser and enter your username in the field.
Select Next and then click on the Forgot Password option.
On the next page, you will see a list of recovery options. You need to select the Security Question option to perform the Google Account Recovery using DATE OF BIRTH.
Here you need to answer the security questions, one of which is Date of Birth.
Once you provide the correct answers to all the security Questions, you can create a new password for your account and use it to sign in.
Also Read: Gmail notifications not working
Need Google Account Recovery Help? Contact Our Experts
Performing Google Account recovery when you forget your account password or get locked out is as easy as ABC when you know the right procedure. We hope the above methods have helped you get back into your account. However, if you still can't get access to your Gmail account, feel free to contact Internet Homes professionals for online assistance. Our experts will assist you with the Google Account recovery procedure or simply do it for you if you want. Don't wait and get in touch right away.