You would never want Gmail sync to be messed up, neither we nor anyone else. Gmail  (in mobile Mail app) is a place where we get most of the important stuff, official or personal. However, internet homes users generally come across an issue when Gmail not Syncing in the mobile app with the Gmail web account. Indeed, you would have also gone through a similar challenge at least once, twice, or multiple times.
What troubles you the most is you can't access new emails, send an important doc, or can't open/read the new mails. Besides, Gmail not syncing issue also leads your mobile Mail app to respond sluggish or slow. No worries. Here we have covered all the necessary measures that you need to take to fix the Gmail not syncing error so that you can get access to your Gmails again.
What triggers Gmail not syncing error?
Lots of reasons trigger Gmail not syncing in the mobile app. Here are some of the possibilities that need immediate attention.
An unexpected error in data transfer generally leads to syncing issues with Gmail. The issue remains until this error gets cleared automatically.
They can also be a possibility of unusual networkconnection glitches or error while sending a large data leading to unexpected timeouts.
Sometimes, the lower storage space also affects Gmail sync.
Accumulation of cache files and cookies in Gmail storage also triggers Gmail sync issues.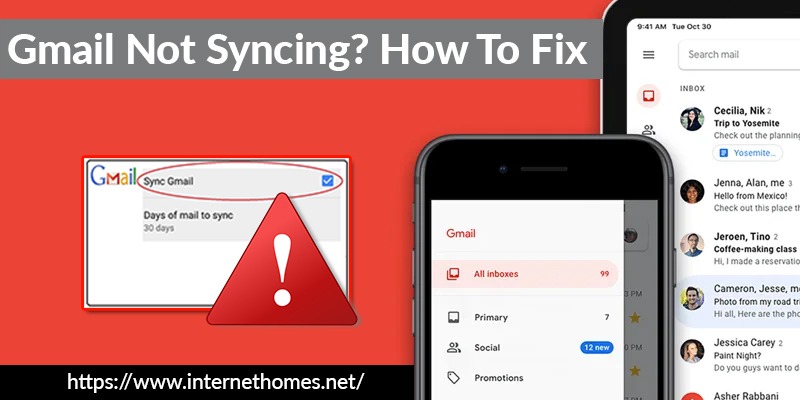 How to fix Android  Gmail sync issues?
Here are the steps that you can take to fix Android  Gmail sync errors. More than half of the users have reported Gmail sync problems between the Android mail app and Gmail account.
Manually sync Gmail – Launch the Gmail app on your Android device, swipe your finger over the screen from top to bottom, let the Gmail sync.
Turn on the automated Gmail sync– Besides, you can also automate the process. For that, launch the Gmail app, go to the menu or click three lines on the top and then click settings. Now you may choose the Gmail account name, Go to the data usage section, and then checkmark the Sync Gmail box.
Ensure Android is connected to the internet – Bad internet connections also lead to Gmail sync problems. Connect your Android device to a high speed and a stable internet connection. You can also turn on the flight mode and then turn it off to fix the problem.
Verify the Gmail password– Make sure to use the correct Gmail password in the Android mail app. If you have changed it in your Gmail account then ensure to rectify not an Android  Mail app. Visit mail.google.com, sign in to your account and if you get a wrong password error, that means it needs your attention.
Keep your Gmail app up-to-date – Google keeps launching a new version of Gmail, which is available in the Play Store for Android. On your Android device, go to Play Store, search for Gmail, and see if any new update is available or not.
Delete Gmail cache files and storage data– Accumulation of files also triggers sync errors in Gmail. Here is how you can remove them – open Settings on your Android device, go to Apps and notification, click Gmail app, click Storage & Cache, and then choose the option Clear Storage. You may also restart your Android device to fix the problem.
Steps to follow to fix iOS Gmail  sync error
Here are the steps that work really well for iOS or iPadOS Gmail sync errors. However, a few steps are common with that for the Android device. Follow these measures to eliminate the iOS Gmail sync issues.
Enable IMAP – IMAP or Internet Message Access Protocol allows the users to receive the emails from a mail server. If it's not enabled, users can face errors while using Gmail like sync issues.
Verify the Gmail sync manual settings – If you have set your Gmail to sync manually then most probably your Gmail will respond sluggishly while fetching new emails (in bulk). Here is a tip. Go to Settings, click Passwords and Accounts, choose the option Fetch new data, select Gmail, and click Fetch.
Ensure your iOS device is connected to the internet – You can also set your iOS to the flight mode and turn it off after some time. Restarting the device also works wonders.
Update Gmail app– Visit App Store on your iOS device, check for any recent Gmail update, and install it on your iOS.
Delete your Gmail account and reinstall the Gmail app – as a final resort, you can try to remove your Gmail account from iOS. Click Settings on your Apple device, Go to passwords and accounts, click the Gmail account. Hit the delete account option and reconfirm your selection. This step won't remove your Gmail data, instead, it will clear everything on your iOS device, so don't worry and go ahead.
Also Read: Gmail Won't Load
Still, facing a Gmail sync error? Call the experts
Android or iOS users can come across Gmail not syncing issues that lead to a problem accessing new Gmails. Well, you don't have to worry about it. Just follow the steps as instructed here in this article. If still, the problem doesn't resolve, you can straightaway call internet homes at email helpline number. We will be glad to assist in eliminating any Gmail problem.