A Wi-Fi router links devices within various networks by forwarding data packets between the networks. Today, Wi-Fi routers have become a significant piece of technology in every home. The router has an IP address like 192.168.1.1. The router assigns the same class IP address to every device linked to the home network. It ensures the data ends up in the correct place instead of becoming lost in the home network. The NETGEAR router login enables users to set up their wireless network. But a user using the NETGEAR Nighthawk router may wonder why they can't log into my NETGEAR router? It's a common problem that plagues many. In this guide, you'll find how to log in to your NETGEAR router through a web browser.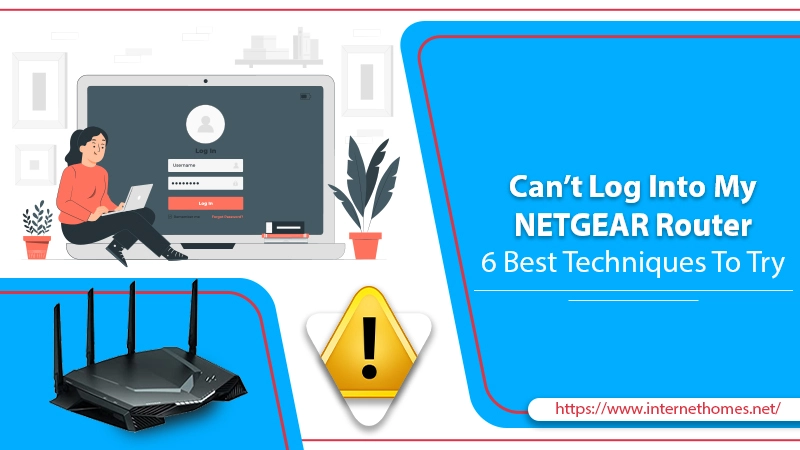 Steps to Login to Your NETGEAR Router
You can link to your wireless network via Wi-Fi or to your wired network by a CAT5 cable or an Ethernet. Now, follow these steps to know how to log into NETGEAR Nighthawk router.
Launch a web browser. You can choose any web browser from Mozilla Firefox, Microsoft Internet Explorer, Google Chrome, Microsoft Edge, or Apple Safari. 

Navigate to the router access URL. You can go to any of the routers below.
After some seconds, you'll view the login page, but navigate to the NETGEAR router IP if you don't see it. The default IP address of the NETGEAR router is given below.
http://192.168.1.1

http://192.168.0.1

 
In case you get a warning from your browser about an insecure connection, accept the warning and proceed to the screen of router login.

When you are on the router login screen, input the password and username you chose when you set up your router for the first time. 

If you didn't set an account, you can use the default login credentials. The default username is 'admin.' The password (default) is 'password.'

In case you don't remember your NETGEAR username and password and the default credentials provided above aren't working, you can reset the router to factory default. 

You have successfully logged into your NETGEAR router. 
How to Access Your NETGEAR Nighthawk Router
You can log in to your NETGEAR Nighthawk router through the method given above. You can also make use of the Nighthawk mobile application. Install the app for Android or iOS as per your device. After that, go through the instructions in the application. When you set up a NETGEAR account, you'll have to scan the QR code present on the router. Post your scanning the QR code, and the app will take care of all else.
Can't Log Into my NETGEAR Router
– Solutions to Fix It
NETGEAR routers are compatible with a majority of modems. So, there's no requirement to modify the current device you have. However, in spite of being a technologically advanced Wi-Fi device, it sometimes causes various issues that trouble people. Users wonder why they can't login to NETGEAR router. If this is the case with you as well, you can follow the various measures for this problem given below.
1. Use an Ethernet cable.
One of the first actions you can take when you cannot log in to your NETGEAR router is to use an Ethernet cable for the connection. Link your router through the Ethernet cable. If you cannot connect wirelessly, plug your computer directly into the NETGEAR router. This measure resolves the login problem in most cases. 
2. Restart the router
You can also restart your router if you face the issue of NETGEAR can't login to router. Unplug both the modem and router. Wait for half a minute and plug in the modem. If its power does not come in a few seconds, hit the 'Power' button. Wait for a full minute. Then plug in your router. Wait for two minutes. When the modem and router start again, see whether the problem is resolved or not.
3. Remove junk from your browser.
Over a period of time, cache, cookies, and browsing history accumulate and makes the web browser very sluggish. It can hinder you from login in to your NETGEAR router. So, make it a point to clear junk and clutter from your browser and boot it from time to time. Also, remember to update the software version of the browser you use.
4. Disable VPN
Most users use a VPN for hiding their internet activity. If you want to access your router settings but are linked to a VPN, you'll not be able to access them. The reason behind it is that when you are linked to a VPN, the router login page won't load. So, if you want to gain access to your router settings, you need to disconnect your VPN connection or any such connection. You only need to remain connected to the Wi-Fi router.
5. Update your router firmware.
 Updating the router firmware can also resolve this problem. If you haven't updated the router for some time, you can navigate to the website of your Wi-Fi manufacturer. Here you can locate the updated version for your router model. If you are unable to find any update for your router, don't try to get the firmware of another router. It will not resolve the problem. On the other hand, it will ruin your device. 
6. Hard reset your modem
Perform a hard reset of your modem to log in to your router. To do it, follow these steps.
Turn the router to the side where the

Reset

button is present.

Take a paper clip and hold down the '

Reset

' button for half a minute.

Release the button and wait for half a minute again for your router to reset completely and power back on.
Read Next- What To Do When Linksys router server not found?
Final Words
Hopefully, you won't find yourself wondering why I can't log in to my NETGEAR router after reading this article. Implement the various fixes as per the instructions. But if you still face issues logging into your NETGEAR router, connect with customer service experts. They will troubleshoot all your router-related problems easily.