If you have several Gmail accounts, then you must learn how to change default gmail account. Setting one account as default helps you do so for example you can set your personal account as default on your mobile phone while the work account is on your desktop. The point is to manage your emails easily so that whenever you open your Gmail, you are taken to your default account first.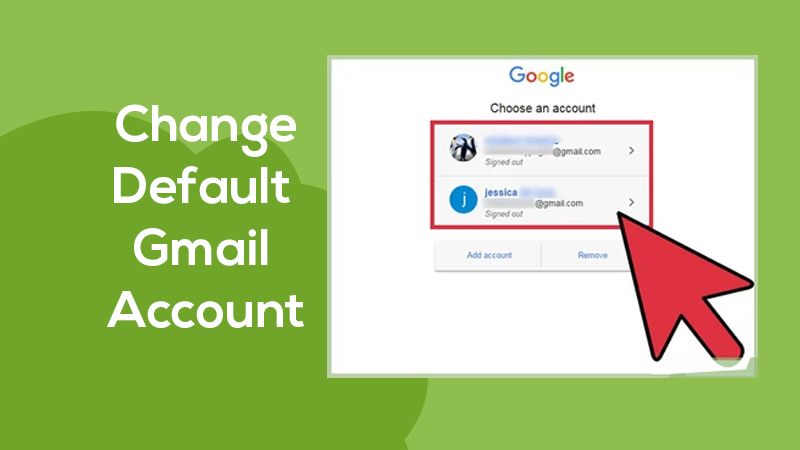 What's Included In this Guide:
How To
Change Your Default Gmail Account
Check Your Default Gmail Account
Reasons To Change Default Gmail Account
Creating A New Gmail Account
Signing Into Your New Gmail Account
Summing Up
Here's How To Change Your Default Gmail Account?
To set your preferred account as default, you need to sign out from all accounts first. The account that you sign in to first is set as your default account. So, in case you want to switch your default account, continue reading the steps below.
Open Gmail on chrome and go to your inbox.
Click on your profile from the top corner.
Now you need to click on Sign out. Doing this will sign you out from all your Gmail and other accounts.
Now on Gmail.com, sign in using the account you want to set as default.
Click on Sign in and enter your account password.
Select Next and you'll get signed into your default account.
Now you can add all your email accounts.
This is it! Your preferred account is now set as default. Once the above process is complete, follow the steps below to add other accounts to your new default account.
Select your profile and click on Add account.
Select Use Another Account option and then enter your email address.
Enter your email password and click on Next.
That's all! Your account will now be added to your Gmail.
You need to repeat this procedure for all the other email accounts you want to add to your Gmail.
Confirm If Your Account Is Set is Set As Default
Now that you have followed the above procedure to change your default account, it's time to check if it has worked or not. To do so, follow the steps below:
From the top right corner, click on your profile pic.
The first account you see is your default account.
What Are The Reasons To Change Default Gmail Account?
There are many reasons why you should change your default account. Doing this is helpful only if you have several accounts signed into your device. You can set each account as default on a different device. To know which account to set default, think of the account you use the most from your device. If you use your work account from your desktop, it will be helpful. If you set that up as default on your device. For a personal account, set it as default on your mobile or tablet wherever you access it the most.
Setting up a default account helps you eliminate any sort of distractions. Of course, you wouldn't appreciate being bombarded by your personal emails when you are at the office. The same is when you are home and need to access your personal mail and not be bothered by work stress.
Create A New Gmail Account
To create your Gmail account you need to create a Google account first. This requires you to enter some of your basic details including your name, birthdate, location, and gender.
First of all visit www.gmail.com.
Select Create account.
When the Sign-up form appears, enter the required details.
On the next page, you need to provide your mobile number for two-step verification.
Now you will receive a text from Google that includes the verification code. Enter the code in the given space to complete your verification
Complete the setup procedure by providing some more details for your account for example your birth date and name.
Go through Google's Terms of Service and Privacy Policy and approve it by selecting I agree.
That's it! Your new Google account is ready to use.
While you are creating your account, we suggest you create a strong password to prevent your account from unauthorized access. Also, keep two steps verification on for security purposes.
Sign Into Your Gmail Account
If you just created your account, you'll be automatically signed into it. However, if you want to sign in to your previous account, follow the steps below:
Visit www.gmail.com
Enter your email address and password.
Select Next.
That's all! You are now signed into your Gmail account. You can leave your account signed in if it is your personal computer, however, if it is not, then it's wise to sign out after using it. To sign out, simply, click on your profile on the top right corner and select Sign-out.
Also Read: How to unblock someone on Gmail?
Summing Up
Nowadays, we all have multiple email accounts that we like to access from all our devices. In this case, managing your accounts is necessary. Setting up a default email according to your usage helps a lot in management and saves your time. Below we have mentioned how you can quickly change your default Gmail account. We hope the steps were helpful and you didn't face any issue with it. In case you need any help with your Gmail account, feel free to reach our Internet Homes experts for remote assistance. You can also refer to our self-help guides for common Gmail issues and queries.