AT&T provides unlimited data plans to its users. They can make use of it on their mobiles as well as on the AT&T mobile hotspot. Since it's an unlimited subscription, you can do anything with it online. For example, you can play games, run live streams, and watch movies. However, AT&T NAT 3 has certain restrictions as it's a strict NAT type. You have to modify it to NAT 2. Thus, you should know how to change NAT type on AT&T hotspot. This article will tell you all the methods to make this change. Keep reading about the different ways to modify the NAT type on the AT&T mobile hotspot.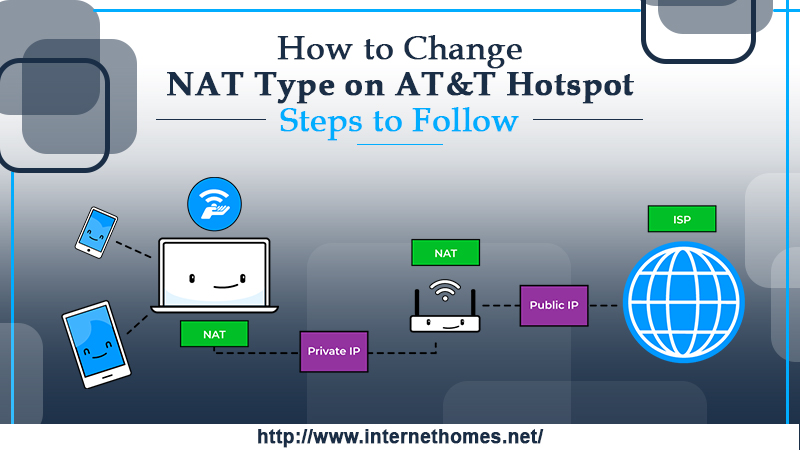 What Does NAT Imply?
NAT stands for Network Address Translation. It's the capacity of a router to translate public Internet Protocol or IP addresses to a private one as well as the private ones to public IP addresses. It works to hide the IP addresses of a specific network. NAT is also the technology that is responsible for your internet home network. 
What Are the Varied NAT Types?
Generally, there are three distinct NAT types. These include the following.
Type 1 or open.
Type 2 or moderate.
Type 3 or strict.
Open, moderate, and strict are the NAT types for all Windows devices. On the contrary, types 1, 2, and 3 are the NAT types for Sony devices.
Meaning of the Different NAT Types
For knowing how to change NAT type on AT&T hotspot phone, you first need to find out exactly what the varied NAT types mean. Their meaning is explained below.
Type 1 or the Open NAT is that type in which your device can link to the website of anyone. It can also connect to any connections. It's very simple for the device to connect to them.
Type 2 NAT or the Moderate NAT is that type that implies that the connection to different devices will not be open nor restricted. In simple words, it means that your device can easily connect to other devices. However, not all functionalities, as well as functions, will be accessible. 
Type 3 or the Strict NAT type is that kind of setting wherein your device can only connect to those devices with a type 1 or an open NAT type. 
Now, if you are engaged in a game, and you find yourself unable to link or connect with the next player, then altering the AT&T hotspot's NAT type is what is required. It is why you need to know how to change NAT type on AT&T hotspot.
The Different Steps to Change the NAT Type on AT & T Hotspot
There are various steps for changing the NAT type from Type 3 to Type 2. All of these are given in detail below.
Visit the AT&T website. You can access it through any device of your choice, like a laptop, PC, tablet, or smartphone. 

Sign in to your AT & T account. For logging in, input your user ID and password. Ensure that you are typing in the correct credentials. 

Now, you'll be directed to a page and there you can view many different options. Go to the option of 'Port forwarding.'

When you go to the category of 'Port forwarding,' strictly adhere to the instructions you see on the screen. Only when you follow these instructions correctly can you troubleshoot and link your device.

Follow the steps given in the next section to modify the NAT type on your AT&T mobile hotspot.
 Read Also- How To Fix The ATT WiFi Not Working
How to change NAT type on AT&T hotspot?
Changing the NAT type is not a very difficult process. Adhere to these steps for it.
Open the web browser from a PC that is linked to your router.

Now, see the name of the network of the router. To view it, press the router's power button to shift through the varied panels up till you see the name appearing.

Now input the given address:

http://attwifimanager

in your browser's address bar. When you hit 'RETURN' or 'ENTER' on the keyboard, you'll see a login page appearing. Here you need to input the admin username and password. 
Now, navigate to 'Settings' and tap the option of 'Router.'
Go to the part which displays 'Basic.' Now, switch on UPnP. 
Congratulations, you have successfully changed the NAT type on the AT & T hotspot. 
What to Do When You Cannot Change the NAT Type
There can be times when you'll find the task of modifying the NAT type on the AT & T hotspot quite challenging. But there's no need to despair. You will find that neither can you access the AT&T Wi-Fi Manager nor can you view the UPnP option. If it happens, maybe your hotspot doesn't have the option of UPnP. The only hotspot where you can toggle this option is the Nighthawk hotspot router. 
On the contrary, if you are already using this router and cannot change it, don't waste any time contacting the technical support team of AT&T. The technical support staff are adept at conducting various troubleshooting techniques that enable users to get rid of this concern. It might also be possible that you need to modify the hotspot router itself. It can also be the source of the problem.
Also Read- What To Do When AT&T Broadband Light Blinking Red
Summing up
You must have found the answer to your query of how to change NAT type on AT&T hotspot. NAT is responsible for your internet home network. You can also follow the series of steps explained above to change the NAT type on your mobile hotspot. The whole process takes only 10 minutes. You also know what you can do when you find yourself unable to modify the NAT type. Don't worry if the problem persists. Get in touch with our AT & T customer support team, and you'll definitely be able to resolve all your issues.