Gmail is a prominent emailing service, known for quick mail delivery without causing any hassle to the users. Although Gmail is highly user-friendly, sometimes it gets affected due to technical glitches. The Gmail error 502 is the most common of them all which has made our forums flooded with queries like "I got an error in Gmail (error 502), how to fix it", or "my Gmail says Temporary Error 502 and much more.
Here is how the error 502 appears on screen.
502: That's an error. The server encountered a temporary error and could not complete your request. Please try again in 30 seconds.  
502 server error: The server encountered a temporary error and could not compete your request.
Does your Gmail also display a similar error statement while singing into your Gmail app? Or whether the Temporary Error 502 is occurring on your iPhone Mail app, Android, or while accessing Gmail through the web? No worries! As Gmail itself suggests, access to email is temporarily unavailable, you need to wait for a few seconds and retry signing in to your Gmail account. Still, the problem remains unresolved! Then you should get deeper into the root cause of the problem and then start following the troubleshooting steps given in this guide.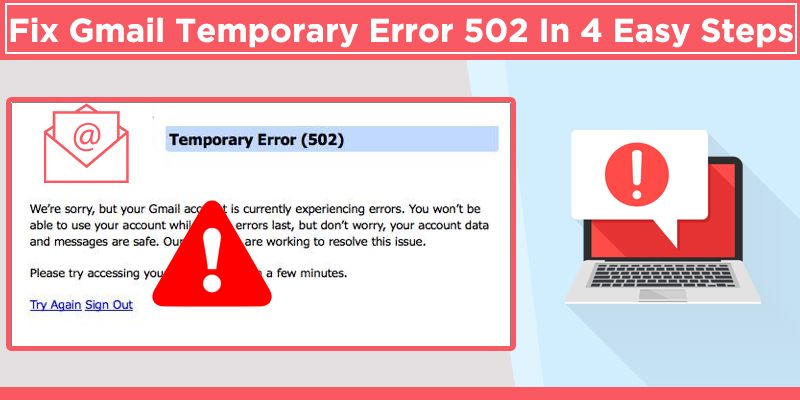 Why Gmail Error 502 Has Occurred?
There is no single reason for Gmail 502 error. It can be caused by multiple issues and those we have provided below.
An issue in the Gmail server might be debarring you from accessing Gmail.
Servers are causing bad gateway errors, hence causing Gmail to display Temporary Error 502, which resolves automatically after a few seconds.
Accumulation of cache files and cookies.
Reconfigured Gmail settings may also cause error.
Sometimes, the browser extensions and add-ons may also prevent Gmail from functioning or performing optimally.
You might not be working on Gmail supported web browser.
Lastly, the proxy server might be receiving an invalid response from an upstream server.
How Can I Fix Gmail Error 502?
It is a temporary error and resolves automatically after some time, but still, you can take few measures to get rid of Gmail error 502.
Step 1. Try reloading the page
Though, a very generic solution to all internet-related issues, but is really effective to fix error 502. You simply have to press the F5 button on the keyboard or alternatively, click the refresh icon adjacent to the URL. Once done, the problem should resolve.
Step 2. Wait for some time and let Gmail fix it
The Gmail server problems are beyond control, except waiting there is nothing much you can do. In most cases, the problem resolves automatically, and you can try logging in again to access your Gmail account after some time. Till the time you can't access Gmail, you shouldn't worry about losing messages as Google assures you to safeguard the mails and working in the background to fix the problem.
Step 3. Go incognito or switch to an alternate browser 
If Gmail is up and running, but still error 502 popping up, then there may be a possibility of trouble in your Gmail app. You should switch to a web browser to access Google Mail or else switch the browser to thunder bird, Mozilla Firefox, or internet explorer. If it doesn't work, then you may go incognito to access Gmail. These minor tweaks should work for you to resolve bad gateway errors.
Step 4. Delete the cache files and browser cookies
Accumulation of too many files in cache memory may also trigger Gmail error 502. Clearing the cache files and cookies should get rid of the problem. Follow the below instructions to delete the files.
Open the browser.
Navigate to the Browser history
Click Clear browser history or data.
Now you should set the time range until when you want to remove the file, set it to All.
Now check mark adjacent to Cache, Cookies, and Browser history.
Finally, click the Clear cache button to remove the accumulated data.
Step 5. Deactivate the antivirus (temporarily)
Systems are generally loaded with antivirus software, those are necessary to protect the PCs from malware or virus infection. However, sometimes the security software considers the Gmail app as a threat to the system, hence quarantines the application and causing error 502 while accessing the app. Temporarily deactivating the antivirus program also reactivating it after some time can resolve the bad gateway error 502.
Step 6. Run the browser in Safe Mode
Running a browser in safe mode specifies that it is working without plugins or extensions. That will eventually help you to fix the problem.
Step 7. Modify the DNS settings
Some bad Gateway issues like error 502 occur due to temporary errors with DNS servers. You may either modify the DNS server settings on the router or on your computer to fix the problem.
Also Read: Gmail Server Error 007
Are You Still Facing Gmail Error 502? Contact Gmail Support 
These seven steps are the only troubleshooting measures that you can take to fix the Gmail error 502. In most cases, we have seen that waiting for a day resolves the problem automatically. However, waiting for a longer period can hamper your task on Gmail, hence contacting the email experts at Internet Homes would be the smartest option. Their services are available 24/7 to assist Gmail users in trouble.